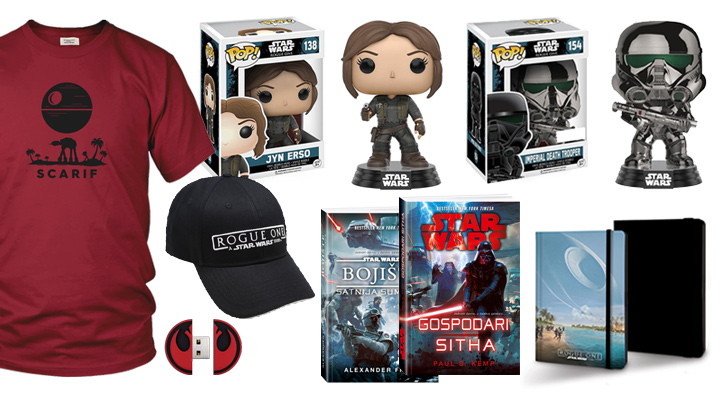 Rogue One: Priča iz Ratova zvijezda je ostao na ostao na vrhu američkog box officea i tokom novogodišnjih praznika. Film je do sada u američkim kinima zaradio 477 milijuna dolara, što ga čini drugim najgledanijim filmom u američkim kinima tokom 2016. godine. Film još uvijek igra i u domaćim kinima pa stignete na bar još jedno gledanje.
Ako ste odraditi drugo, ili čak i treće gledanje onda je možda vrijeme za čitanje. Nakladnička kuća Znanje nedavno je predstavila pet fantastičnih romana o ratovima zvijezda. Iz pera autora Chucka Wendiga stigao je roman Poslije bitke (Aftermath) koji otkriva što se zbiva nakon događaja prikazanih u Povratku Jedija iz 1983. Roman Bojište: Satnija sumraka (Battlefront Twilight Company) autora Alexandera Freeda napravljen je prema videoigri, te prenosi čitatelja ove uzbudljive priče na prve crte bojišta Galaktičkog građanskog rata. U romanu Gospodari Sitha (Lords of the Sith) autor Paul S. Kemp pruža nov uvid u odnos između Dartha Vadera i njegovog gospodara, Imperatora Palpatinea. Autorica Claudia Grey u romanu Izgubljene zvijezde (Lost Stars) opisuje događaje koji se zbivaju nakon Povratka Jedija, a radnja je povezana i s filmom Ratovi zvijezda: Sila se budi. U romanu Tarkin (Tarkin) autor James Luceno još jednom pokazuje da su zlikovci Ratova zvijezda jednako zabavni kao junaci.
Zahvaljujući našem sponzoru i distributeru filma, tvrtki 2i Film, nakladničkoj kući Znanje, i našem portalu Inverzija.net u nagradnom natječaju vam dijelimo doista fantastične stvari. Uz malo sreće možete osvojiti cool majice, hoodice, šilterice, bilježnice, privjeske, usb, SW romane i Funko POP! figurice s likovima iz filma koje inače možete i kupiti u našem webshopu.
Sve što trebate napraviti je točno odgovoriti na postavljeno pitanje. Svi koji točno odgovore ulaze u bubanj za izvlačenje, a one najsretnije nagrađujemo. Upišite svoje ime i prezime te e-mail adresu i pokrenite kviz klikom na gumb "Next".
Nakon što odgovorite na nagradno pitanje, možete nam u komentar napisati i koju biste nagradu preferirali osvojiti (ako je majica ili hoodica, navedite i veličinu).
Nagradni natječaj traje do srijede 11. siječnja u ponoć. S(f)retno!
[wpsqt name="Rogue One" type="quiz"]