91. izdanje dodjele filmskih nagrada Oscar svakako će biti atipično i drugačije nego prijašnjih godina. Nagrade Američke akademije filmske umjetnosti i znanosti dodijelit će se na svečanosti u Dolby Theatreu, u Hollywoodu 24. veljače i to prvi puta bez voditelja.
Black Panther je prvi superherojski film u povijesti kinematografije koji je nominiran za najbolji film. Prvi koji je uopće bio nominiran za nagardu Oscar u značajnijoj kategoriji je bio Logan, za najbolji adaptirani scenarij. Do sada su filmovi o superherojima bili nominirani uglavnom u tehničkim kategorijama kao što su specijalni efekti, kostimografija ili produkcijski dizajn.
Također značajno je i to što Black Panther nije samo nominiran za najbolji film, već u još šest kategorija za: najbolju montažu zvuka, najbolji miks zvuka, najbolji produkcijski dizajn, najbolju filmsku glazbu, najbolju originalnu pjesmu i najbolji dizajn kostima. Sveukupno je to čak sedam nominacija, što već samo po sebi nosi određenu težinu, točno da ne odnese niti jedan kipić.
Osim po nominaciji za najbolji film, Marvelov Black Panther ostat će upamćen i kao film s najvećom zaradom na kinoblagajnama u 2018. godini s iznosom od 1,3 milijarde dolara, kao i po rušenju socijalnih barijera.
Oduševljeni smo što je Akademija odlučila otvoriti vrata i superherojskom filmu, i nadamo se da to nije isključivo radi političke korektnosti, te da ovo neće biti iznimka. Iako je gotovo sigurno nominacija primarno zaslužena radi poruke i reprezentacije filma, što je naravno čisto u redu, Black Panther kao ostvarenje nema umjetničku težinu, i samim time teško da ima bilo kakve šanse za ponijeti kipića u kategoriji najboljeg filma. Kad smo već kod superherojskih filmova i Oscara treba istaknuti kako je drugi Marvelov spektakl – Avengers: Infinity War dobio samo nominaciju za najbolje vizualne efekte, a da su Spider-Man: Into the Spider-Verse i Incredibles 2 nominirani (po nama u ovom slučaju više nego zasluženo) za najbolji animirani film.
Kako se mi na stranicama Inverzije bavimo isključivo žanrom, u nastavku teksta prenosimo nominacije kategorija u kojima je zastupljen žanrovski film:
Najbolji film
Black Panther
BlacKkKlansman
Bohemian Rhapsody
The Favourite
Green Book
Roma
A Star Is Born
Vice
Najbolji animirani film
Incredibles 2
Isle of Dogs
Mirai (Mirai no Mirai)
Ralph Breaks the Internet
Spider-Man: Into the Spider-Verse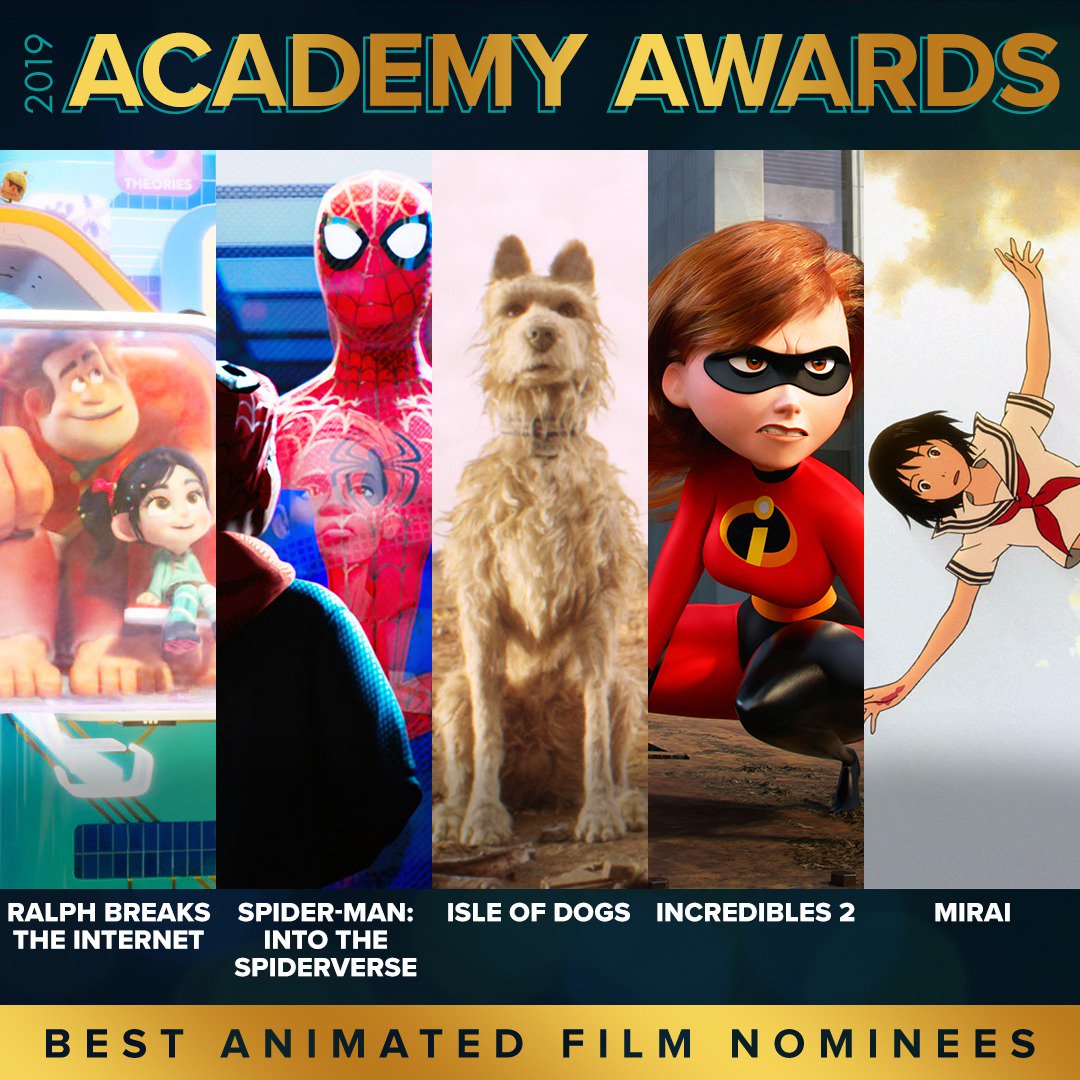 Najbolji produkcijski dizajn
Black Panther
The Favourite
First Man
Mary Poppins Returns
Roma
Najbolji vizualni efekti
Avengers: Infinity War
Christopher Robin
First Man
Ready Player One
Solo: A Star Wars Story
Najbolji miks zvuka
Black Panther
Bohemian Rhapsody
First Man
Roma
A Star Is Born
Najbolja montaža zvuka
Black Panther
Bohemian Rhapsody
First Man
A Quiet Place
Roma
Najbolji dizajn kostima
The Ballad of Buster Scruggs
Black Panther
The Favourite
Mary Poppins Returns
Mary Queen of Scots
Najbolja filmska glazba
Black Panther
BlacKkKlansman
If Beale Street Could Talk
Isle of Dogs
Mary Poppins Returns
Najbolja originalna pjesma
All the Stars, Black Panther
I'll Fight, RBG
The Place Where Lost Things Go, Mary Poppins Returns
Shallow, A Star Is Born
When a Cowboy Trades His Spurs for Wings, The Ballad of Buster Scruggs
Najbolji kratki animirani film
Animal Behaviour
Bao
Late Afternoon
One Small Step
Weekends