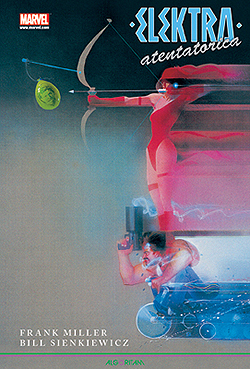 Elektra atentatorica  (Elektra Assasin)
Scenarist: Frank Miller
Ilustrator: Bill Sienkiewicz
Godina izdanja: 2012. (1986. original)
Nakladnik: Algoritam
Uvez: tvrdi
Broj stranica: 264
Prevoditeljica: Vladimir Cvetković Sever
Jezik originala: engleski
Scenarist Frank Miller i ilustrator Bill Sienkiewicz autori su stripa Elektra atentatorica (Elektra Assasin) koji je kao zaokružena cjelina objavljivan od kolovoza 1986. do ožujka 1987. godine u osam nastavaka. Dva titana devete umjetnosti tada su bili na vrhuncu. Sienkiewicz je svojim osebujnim ilustratorskim stilom bio ikona. Table je oslikavao svim i svačim, na njih lijepio, otpornike, perje, kolažirao, a Miller je iza sebe imao suvremeni masterpiece, The Dark Knight Returns – osebujnu priču o jednom od najzanimljivijih heroja američkog stripa.
Iako ne pretjerano duboko djelo i prilično jednostavnog zapleta, Miller se u Elektri prepušta žestokoj satiri kombinirajući seks, nasilje i religiju i pritom se dobro zabavlja. No, usprkos silnoj zaigranosti, prisutan je i jasan politički kontekst. Sredina osamdesetih disala je u ritmu moguće nuklearne kataklizme pri zalasku hladnog rata. Miller pokazuje svoj interes za politiku koji očigledno nije puka scenografija za priču, već jasan i promišljen stav. Odnos prema fašizmu i liberalizmu koji u svojoj srži ima korupciju često nije jasno razdvojen u Millerovom satiričnom žargonu. Ne ostaje Miller dužan niti jednoj (američkoj) političkoj opciji. Poruka je jasna, tko god bio na vlasti, ljudima i svijetu se jednako loše piše.
Elektra je ponikla iz Dardevila pa u Atentatorici Miller nije imao potrebe graditi lik. Jasno je tko i što je Elektra, pa se prepustio eksperimentiranju, a za to je najbolji mogući odabir bio Sienkiewicz, crtač koji se neće podvinuti krutim pravilima zanata, često ih kršeći. Njegove table su u svakom segmentu odraz Millerovih ideja. Karikaturalnim izričajem Sienkiewicz odgovara na Millerov humor, dramu ilustrira stilizirano realistično, a akciju prikazuje gotovo filmskom vještinom upotrebom svega što mu dođe pod ruku. Rekao bih da je obojci rad na Atentatorici više bio ples, sukob, hrvanje ili obarenje ruku nego uobičajeni ritam – scenarist piše, crtač crta.
Zato je svaka stranica Elektre atentatorice ujedno i malo čuđenje za čitatelja. Uz tijek priče nemoguće je a ne istraživati crtež i otkrivati brojne detalje, kako one s jasnom porukom, tako i one suptilnije, nepažljivom oku prikrivene.
Iako ne spada u najveća dostignuća devete umjetnosti niti u najvažnija Millerova djela, Elektra atentatorica spada danas u nezaobilazne strip-klasike. Premda politički kontekst Elektre zbog geopolitičkih promjena u svijetu od objavljivanja do danas, djeluje ispuhano, dijelovi su i dalje (zbog svoje univerzalnosti) itekako aktualne. Specifičnost Millerovog strip-pripovijedanja jasno se ocrtava u Elektri. Likovnost koju je Sienkiewicz dao serijalu nije česta pojava u američkom stripu, pa bi čak i bez osebujnog Millerovog stila bio nezaobilazan čitateljima koji u stripu vide više od dječje zabave.