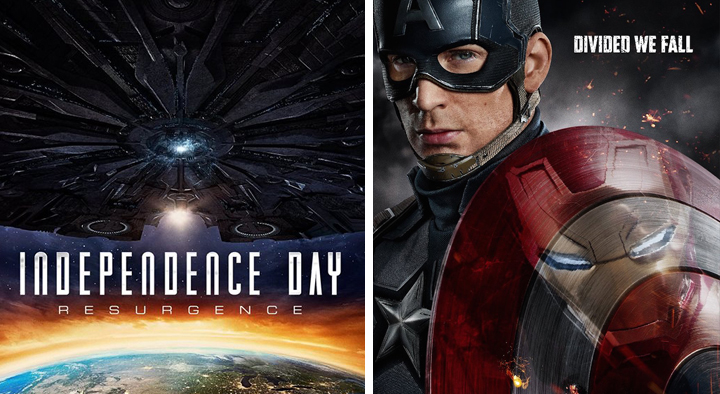 U Americi je Super Bowl nedvojbeno najveći televizijski event koji skoro pa sadrži za svakog po nešto. Od utakmice, fantastičnih izvedbi u poluvremenu, naboljih reklama koje koštaju omanje bogatstvo i naravno Super Bowl trailere za filmove koji uvijek dostave nešto novo. Mi smo u ovom članku odlučili izdvojiti kremu žanrovski Super Bowl trailera pa krenimo redom od najiščekivanijih:
Captain America: Civil War
Spot od gledatelja/fanova traži da odaberu stranu, da li podupirete #TeamCap ili #TeamIronMan? Za one koji možda ne znaju ponovit ćemo da 'Team Cap' čine The Winter Soldier, Falcon, Agent 13, Ant-Man, Hawkeye i Scarlet Witch dok 'Team Iron Man' čine War Machine, Black Widow, The Vision i Black Panther. Film u kina stiže 06. svibnja.


Deadpool
Konačno je stigao i taj tjedan. Sutra u ponoć idemo na predpremijeru Deadpoola koji na regularni kino program stiže 11. veljače. Fox ništa ne prepušta slučaju i naravno da je iskoristio i Super Bowl za rasplamsavnje vatre koja nas je već do sada više nego pošteno zagrijala za film. Spot nije dugačak, jer košta boli glava, ali zato donosi nove snimke pa se bacite na gledanje.


Independence Day: Resurgence
Kao što je nekadašnji predsjednik Whitmore rekao: "Vraćaju se", i čini se da će im ovaj puta trebati puno više od uploadanja virusa da bi se obranili od invazije vanzemaljaca. Dok je prvi trailer igrao upravo na kartu nostalgije kultnog govora predsjednika Whitmorea, ovaj spot je usmjeren na patriotski ton himne i snimke žestokog razaranja pod novim napadom. Film u kina stiže 24. lipnja.


X-Men: Apocalypse
Najznačajnija stvar u spotu je prvi pogled na Oliviu Munn u akciji kao Psylocke. Također vas očekuje i dobar pogled na Apocalypsea kako koristi svoje moći da bi porazio Charlesa Xaviera. Stvari ne izgledaju dobro za X-Mene, prikazano je puno uništenja koje baš i ne uspjevaju spriječiti. Film u kina stiže 26. svibnja.


10 Cloverfield Lane
Prošli mjesec Bad Robot je učinio gotovo nemoguće i iz rukava izvukao potpuno neočekivani trailer za "10 Cloverfield Lane", svojevrsni polunastavak filma Cloverfield. Prvi trailer nije otkrio čudovišta, a ovaj spot se nalazi na samom rubu. Marketinška ekipa je opaka, ili su nam dali natruhu čudovišta koje nas očekuje ili je ovo samo jako dobar trik koji nas treba navući na krivi trag. Film u kina stiže već 11. ožujka pa nam ne ostaje puno vremena za teorije.