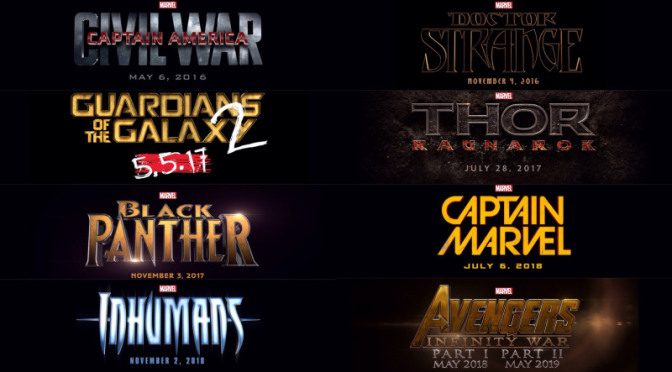 Jučer je u Hollywoodu u kultnom kinu El Capitan u sklopu Marvelovog eventa otkrivena treća Marvelova faza. Raspored filmova je sljedeći: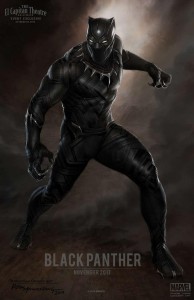 "Captain America 3: Civil War" – 06. svibnja 2016.
"Dr. Strange" – 04. studenog 2016.
"Guardians of the Galaxy 2" – 05. svibnja 2017.
"Thor 3: Ragnarok" – 28. srpnja 2017.
"Black Panther" – 03. studenog 2017.
"Avengers: Infinity War Part I" – 04. svibnja 2018.
"Captain Marvel" – 06. srpnja 2018.
"Inhumans" – 02. studenog 2018.
"Avengers: Infinity War Part II" – 03. svibnja 2019.
Na eventu je otkriveno da će Crnu panteru glumiti Chadwick Boseman (42, Get on Up), a dobili smo i prvi pogled na to kako je njegov lik zamišljen. Potvrđeno je da u bližoj Marvelovoj budućnosti neće biti samostalnih filmova za Hulka i Crnu udovicu. Tijekom prezentacije za film "Avengers: Infinity War Part II" pušten je kratki teaser koji između ostalog prikazuje i Thanosa kako maše svojom 'rukavicom beskonačnosti' koja je sada upotpunjena sa svih šest dragulja koji ga čine neuništivim. Rukavica je iznimno bitna jer sadrži ključ njegove moći koja započinje priču za "Infinity War". S obzirom da je video u međuvremenu završio na netu, sada u njemu možete uživati i vi.
Nakon eventa iskočilo je još nekoliko zanimljivosti vezanih uz svijet Marvela. Jučerašnju epizodu serije "Agents of S.H.I.E.L.D." popratio je i prvi klip iz filma "Avengers: Age of Ultron". On zapravo prikazuje da sve nije tako crno kako nam se možda učinilo u traileru, te da nas ekipa neće lišiti dobre zezancije koliko god stvari izmaknu kontroli.
No to nije sve, uz epizodu smo dobili i prvi teaser za nadolazeću Marvelovu mini seriju "Agent Carter" koja na male ekrane stiže u siječnju iduće godine, točno kada nastupa pauza za Agents of S.H.I.E.L.D.