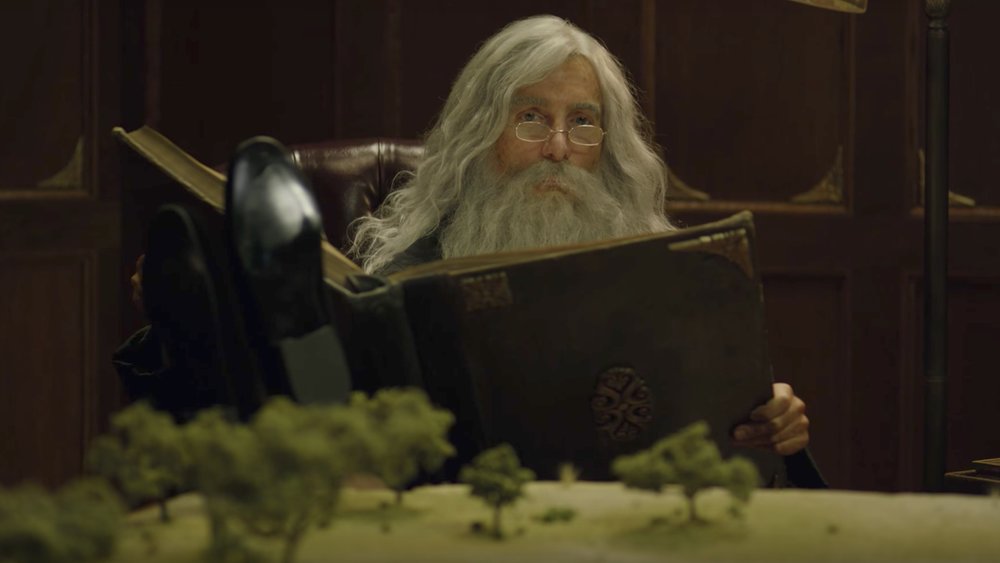 Oats studios, eksperimentalni studio Neilla Blomkampa, kojemu je cilj revitalizirati SF žanr i uvesti prijeko potrebne novine radi punom parom. Nakon dva hard SF ostvarenja – "Rakka" i "Firebase" koje smo imali prilike gledati prošli mjesec, i kratkog trominutnog crnohumornog infomerciala "Cooking with Bill", za ovaj tjedan Oats nam je pripremio pravu poslasticu sa Sharltom Copleyjem (District 9, Elysium) koji igra ni više ni manje nego Boga. I to ne onoga kakvog mnogi vole zamišljati, dobrohotnog djedicu s dugom sijedom bradom. Ok, brada je tu, ali ovaj djedica ima smisla za crni humor i ne brine se previše za svoje kreacije. Pravi mračnjak.
"God: Serengeti" započinje pastorarnom scenom koja neodoljivo podsjeća na početak "Kralja Lavova", ili "Planet Earth", gdje slonovi veličanstveno kroče afričkom savanom. No ne treba puno da gledatelj shvati da je to sve samo varka, jer savana je smještena na ogromnom stolu u ni više ni manje uredu samog Boga. Slonovi su zapravo minijaturne životnijice, koji tu tabletop savanu dijele s prehistorijskim ljudima i s kojima se kreator, uz pomoć svog sluge, poigrava u pravom monty phytonovskom stilu.
Nažalost film je veoma kratak, ali u te četiri minute Oats još jednom pokazuje veliki potencijal koncept filmova koji se financiraju ne kroz velike holywoodske studije, nego kroz crowfunding. Kao i njegovi prethodnici i God: Serengeti je dio Vol. 1, prve serije eksperimentalnih filmova, i također je zamišljen potencijalni nastavak u slučaju da koncept poluči uspjeh.
A nakon što smo vidjeli koliko originalnosti i inovativnosti Oats može staviti u četiri minute, iskreno se nadamo da će koncept biti dočekan kako i zaslužuje. Idući tjedan slijedi još jedan hard SF, "Zygote", a do tada uživajte u ovom iznimno zabavnom kratkom filmu.