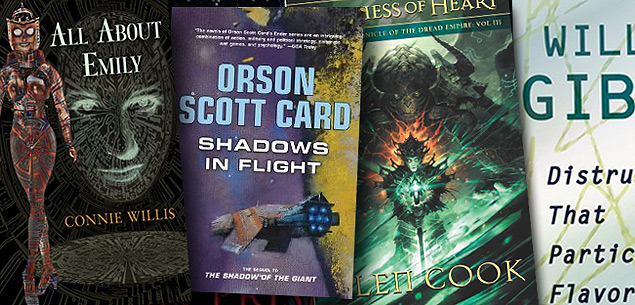 Već na početku 2012. očekuje nas nekoliko zanimljivih naslova:
Brian Herbert i Kevin J. Anderson • Sisterhood of Dune – nažalost dvojac nije uspio doseći vrhunce koje ima Herbertova Dina, ali svijet je toliko primamljiv da ima priličnu količinu poklonika. Nesumnjamo da će i novi naslov u izdanju Tora završiti na vrhovima raznih top-lista.
William Gibson • Distrust That Particular Flavor – eseji i članci majstora cyberpunk žanra. Nezaobilazna knjiga za sve one koji znaju u kojoj je mjeri Gibson utjecao na popularnu kulturu.
Orson Scott Card •  Shadows in Flight – nastavak romana The Shadow of the Giant u serijalu o Enderu.
Ben Bova • Power Play – igre moći u vrhu američke politike u koju je uvućen znanstvenik na pragu otkrića proizvodnje jeftine energije.
Kristine Kathryn Rusch • Boneyards
Glen Cook • A Path to the Coldness of Heart – završni roman u cookovoj Dread Empire sagi.
Carol Berg • The Daemon Prism – novi fantasy roman u Bergovom serijalu Collegia Magica u kojem nekromanser Dante stavlja na kocku sve svoje vrijednosti ne bi li otkrio drevnu moagiju i svete legende.
Connie Willis • All About Emily – gotovo sve što napiše Connie vrijedno je čitanja. Glamur Hollywooda, Broadway i umjetna inteligencija u bliskoj budućnosti.
Paul McAuley • In the Mouth of the Whale