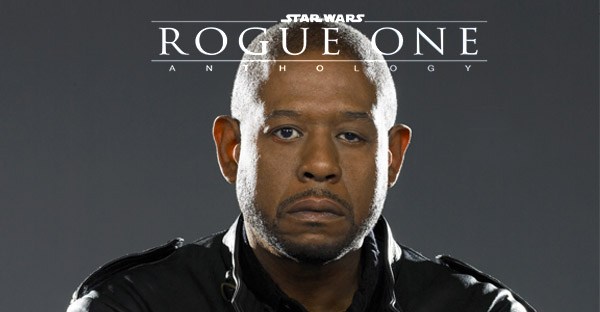 Oscarom nagrađeni glumac Forest Whitaker (The Last King of Scotland) pridružo se glumačkoj ekipi nadolazećeg spin-off filma Zvjezdanih ratova naslovljenog "Star Wars Anthology: Rogue One" redatelja Garetha Edwardsa. Whitaker je tako za sada posljednje ime u nizu glumačke ekipe koju čine Felicity Jones (The Theory of Everything), Riz Ahmed (Nightcrawler), Sam Claflin (Snow White and the Huntsman) i Ben Mendelsohn (The Dark Knight Rises).
Star Wars Anthology: Rogue One će se odvijati između događaja iz filmova Epizoda III: Osveta Sitha (Star Wars: Episode III – Revenge of the Sith) i Epizoda IV: Nova nada (Star Wars: Episode IV – A New Hope), dok će se kronološki više oslanjati na originalne filmove Zvjezdanih ratova. Takav vremenski poredak zapravo ima smisla ako uzmemo u obzir zaplet filma koji se zbiva oko grupe pobunjenika koji planiraju ukrasti nacrte za Zvijezdu smrti.
Za sada još nije poznato koju će točno ulogu tumačiti Whitaker, iako nas vjerojatno najviše zanima uz koju će ga stranu zapravo svrstati. No prije nego li krenu špekulacije oko toga i prije nego što krene uopće sa snimanjem Zvjezdanih ratova čini se da bi mogao glumiti u još jednoj franšizi. Trenutno se glumac nalazi u pregovorima oko uloge Corina Hardyja u remakeu filma "The Crow".
Također treba istaknuti da Whitaker u ovom trenutku snima sf film "Story of Your Life" redatelja Denisa Villeneuvea. U svakom slučaju čini se da glumac ima prilično posla, i to uglavnom sa žanrovskim filmovima, što nam je iznimno drago.
Star Wars Anthology: Rogue One na velika platna stiže 16. prosinca 2016.