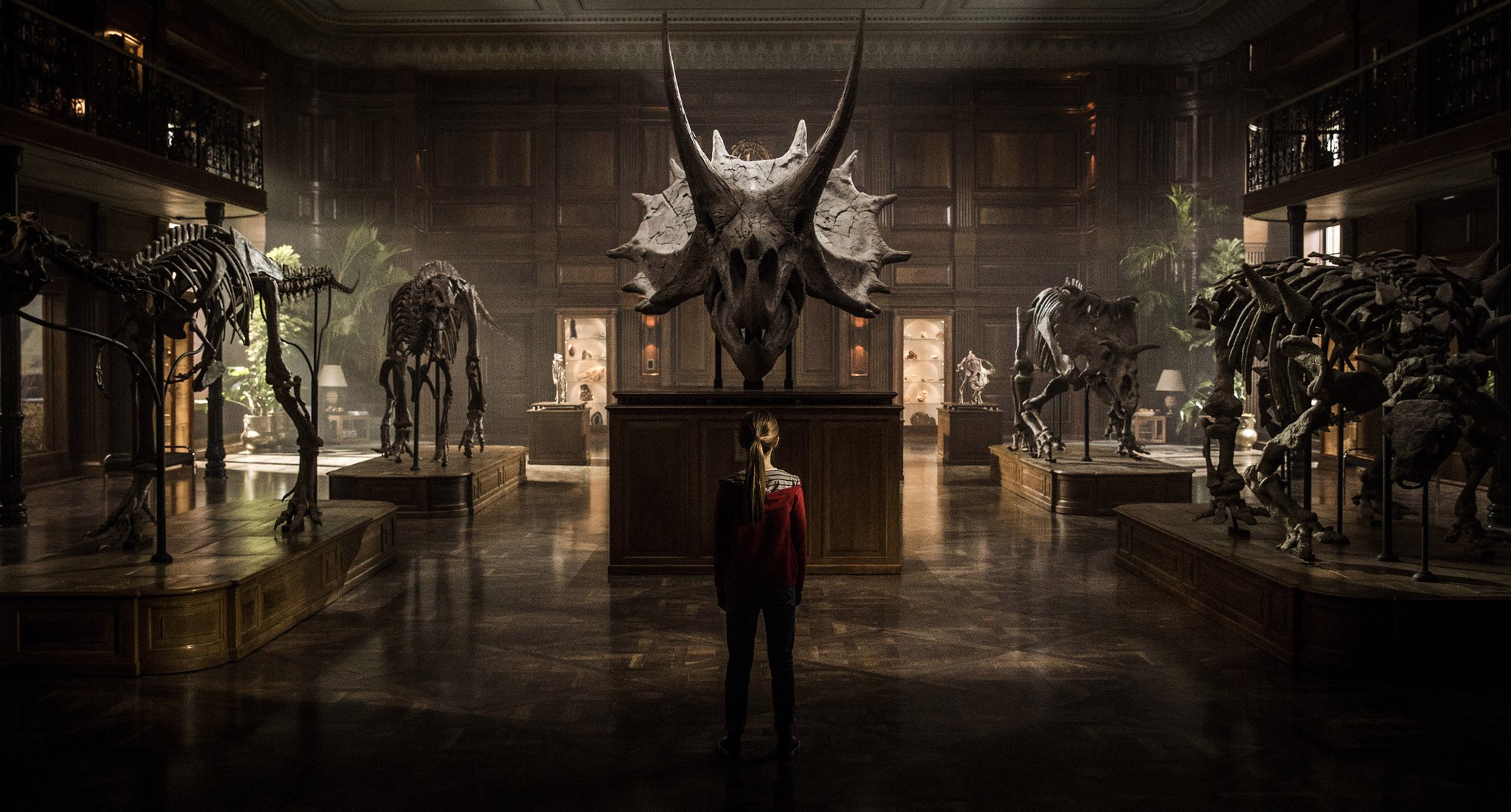 Colin Trevorrow je objavio prvu službenu fotografiju za Jurassic World 2, nastavak istoimenog megahita iz 2015., i peti film "Jurassic Park" franšize. Fotka prikazuje malenu djevojčicu (vjerojatno jedan od važnijih likova iz filma) kako stoji pred impresivnom skupinom kostura dinosaura u muzejskoj prostoriji. Sliku prati kratak opis "Walking in the giant footsteps", dajući nam prostora za spekulacije. Je li to dio vile Johna Hammonda, multimilijardera i osnivača Jurskog Parka, ili je to muzej sagrađen u obnovljenom parku na Isla Nublar? Je li to scena iz sadašnjosti, ili flashback? Teško je reći. Ono što sa sigurnosti možemo potvrditi je da je ovo prvi uvid u stil režisera J. A. Bayone (The Orphanage, The Impossible, A Monster Calls), koji je na redateljskog stolici zamijenio Trevorrowa. Još prošle godine Bayona je najavio da će novi film biti mračniji, strašniji i napetiji od prethodnika, a graničiti će i s hororom.
Zanimljivo je napomenuti da Jurassic World trilogija nije ujedno i reboot franšize.  Radnja Jurassic Worlda dešavala se u parku koji je bio otvoren (a potom brzo zatvoren) na ruševinama parka iz prvoga filma, smještenog na Isla Nublar. Bayona je potvrdio da će se  Jurassic World 2 barem dijelom događati na istom otoku, ali i na novoj lokaciji koju još nismo imali prilike vidjeti. O radnji se ne zna puno, osim toga da neće uključivati militarizirane dinosaure, nego će naglasak biti na problemima zaštite ugroženih vrsta. Postupanje s dinosaurima trebalo bi poslužiti kao paralela za zlostavljanje i medicinsko eksperimentiranje nad životinjama, i zoološkim vrtovima, koji su dizajnirani poput zatvora. Moguće je da će se radnja baviti upravo onim dinosaurima koji su ostali na otoku nakon propasti drugog parka. Jurassic World 2 trebao bi imati i manje akcijskih scena, dok će likovi i radnja dobiti više pozornosti. Fanovi mogu očekivati više animatroničkih dinosaura, čiji je nedostatak bio jedna od glavnih kritika prethodnika.
Glumačku postavu predvoditi će povratnici iz prošlog filma, Chris Pratt kao Owen Grady i Bryce-Dallas Howard, kao Calire Dearing. Vraća se i BD Wong kao odmetnuti Dr. Henry Wu. Tradiciju djece u glavnim ulogama nastaviti će još neimenovana glumica kao 9-godišnja Lucy (koja je možda prikazana na gornjoj slici). Ostatak postave čine veteran James Cromwell (Star Trek: First Contact, 24, Babe), Toby Jones (Harry Potter and the Chamber of Secrets, Wayward Pines), Ted Levine (Silence of the Lambs), Geraldine Chapman (The Orphanage, The Impossible, A Monster Calls), Rafe Spall (Prometheus), Daniela Pinneda (The Detour, The Originals) i Justice Smith (The Get Down). Još jednom, glazbenu podlogu potpisuje Michael Giacchino. Collin Trevorrow služit će kao executive producer, ali i kao scenarist zajedno s Derekom Connolyem. Otac franšize, Steven Spielberg pridružit će se kao executive producer. Potvrđene lokacije su Havaji i Velika Britanija. Snimanje filma (pod radnim imenom Ancient Futures) započelo je ovaj mjesec u Londonu, a život bi trebao (ponovno) pronaći put na velika platna 22. lipnja 2018.
Za daljne vijesti o ovoj gigantskoj franšizi pratite Inverziju.