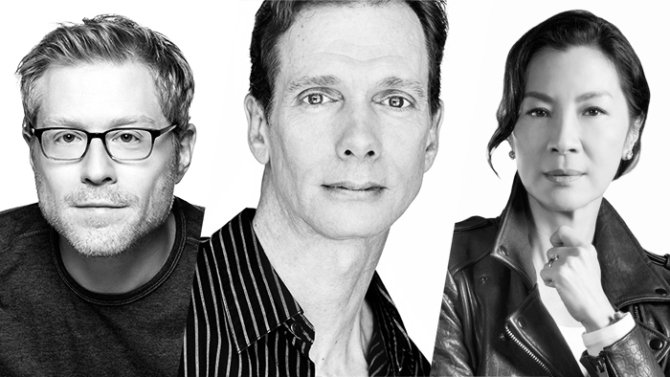 Nova iteracija poznate SF franšize nije imala lagan put iz spacedocka. Izgled titularnog zvjezdanog broda prikazan na SDCC izazvao je nezadovoljstvo među fanovima, što je dovelo do toga da je CBS morao objasniti da je to samo koncept, a ne završna verzija. Uslijedila je odgoda premijere za pola godine, a nije pomoglo ni povlačenje showrunnera Bryana Fullera prošli mjesec. No čini se da Discovery, polagano ali sigurno kreće u impulsnu brzinu. Počele su pripreme za snimanje u Torontu, a prošloga tjedna procurile su informacije o prvom castingu, Michelle Yeoh, koji je sada i službeno potvrđen od strane CBS-a. Yeoh (Crouching Tiger, Hidden Dragon, Tomorrow Never Dies, Memoirs of a Geisha) će igrati kapetanicu Georgiou, zapovjednicu zvjezdanog broda Shenzhou.
Osim Yeoh, objavljene su još dvije uloge, nevezane za Shenzhou. Doug Jones (Pan Labyrint, Hellboy) igrati će znanstvenog časnika, poručnika Saru, vanzemaljca kojeg još nismo imali prilike vidjeti u Star Trek univerzumu. Ohrabrujuće je vidjeti vanzemaljca u jednoj od glavnih uloga, budući da bi budžet serije trebao biti dovoljan za neke zaista impresivne efekte. Anthony Rapp (Rent) je poručnik Stamets, znanstveni časnik, i specijalist astromikolog (specijalizacija su mu gljive, ma koliko to čudno zvučalo). Odabir Rappa, koji se najviše proslavio na kazališnim daskama ulijeva dodatnu nadu, budući da je velik broj omiljenih glumaca iz prijašnjih iteracija serijala karijeru započelo/nastavio upravo u kazalištu. Stamets bi trebao biti i prvi LGBT lik u Zvjezdanim stazama, serijalu koji je i inače poznat po temama inkluzivnosti, tolerancije i raznolikosti. Također, casting Yeoh kao kapetanice Georgiou, obilježava drugi put da će franšiza u jednoj od centralnih uloga imati ženu (Janeway) i kapetana druge boje kože (Sisko).
CBS-ovo službeno priopćenje je kratko i relativno šturo (imena glumaca i kratki opisi likova), ali nam pruža prostor za nagađanje. Zanimljivo je da je Yeoh navedena kao kapetan broda Shenzhou, a ne titularnog Discoverya. Znači li to da bismo mogli vidjeti više od jedne posade, i više od jednog broda u nadolazećoj seriji? Prvi teaser najavio je nove posade, a i stara objava Holywood reportera o glavnim ulogama naslućuje da bi mogli vidjeti posade sa više brodova, možda kao dio flote? Prisjetimo se, spomenute uloge bile su: LGBT znanstveni časnik (Rapp), admiralica i admiral Zvjezdane flote, klingonski kapetan, muški savjetnik i britanski muški doktor. Tome valja pridodati uloge Yeoh i Jonesa. Također, najočekivanija uloga, ona glavnog ženskog lika, prema Fulleru najvjerojatnije potporučnice, još nije otkrivena. Moguće je da ćemo vidjeti i nešto slično Voyageru gdje su različite posade bili prisiljene raditi zajedno nakon dramatičnog događaja. Bit će zanimljivo promatrati razvoj situacije kako budemo dobivali više informacija u narednim tjednima i mjesecima.
Star Trek: Discovery bi trebao ako ne bude naknadne odgode warpati u naš kvadrant u svibnju 2017. godine.