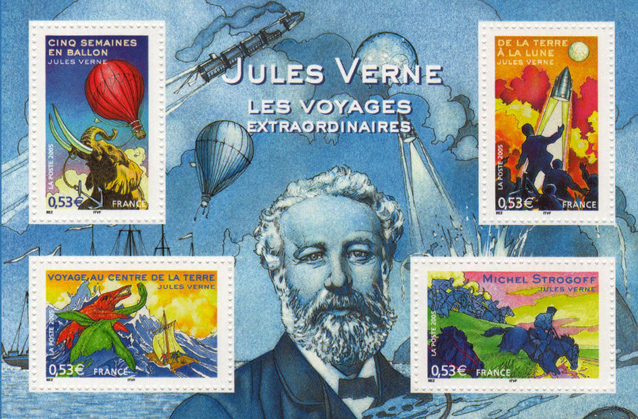 Jules Verne (Jules Gabriel Verne) je bio francuski romanopisac i pjesnik 19. stoljeća najpoznatiji po avanturističkim romanima i jakim literarinim utjecajem na žanr znanstvene fantastike.
Rođen je na današnji datum, 08. veljače 1928. godine u Nantesu, Francuskoj. Iako je bio školovan da bude odvjetnik poput svoga oca, Verne je pokazivao više interesa za pisanje i kazalište. Diplomirao je pravo u Parizu 1851. i odmah je počeo pisati kazališne komade i kratke priče. Nakon nekoliko ne baš uspješnih godina dramskog pisca Verneova sreća se promjenila kada je upoznao urednika Pierrea-Julesa Hetzela. Iz njihove suradnje proizašao je niz popularnih avanturističkih romana poput "The Mysterious Island" (1874), "Five Weeks in a Balloon" (1863), "Master of the World" (1904), "Off on a Comet" (1877), "Twenty Thousand Leagues Under the Sea" (1869), "Journey to the Center of the Earth" (1864), "From the Earth to the Moon" (1865) i "Around the World in Eighty Days" (1873).
Često ga se nazivalo ocem znanstvene fantastike. Napisao je preko 70 knjiga i to većinom romana koji spadaju u neobična – fantastična putovanja. Ne smijemo izostaviti ni činjenicu da je Verne drugi naprevođeniji pisac na svijetu, odmah iza Agathe Christie. Zgodna je znimljivost za naše prostore da je Jules Verne u svom romanu "Mathias Sandorf" (1885) dio radnje smjestio u današnju Hrvatsku. Svakako najpoznatiji detalj su Pazinska jama i Kaštel što je ujedno i razlog zašto se svake godine u Pazinu održavaju vrlo popularni Dani Julesa Vernea.
Njegovo pisanje nije samo služilo kao inspiracija drugim piscima nego i generacijama znanstvenika, izumitelja i istraživača.
Koliko puno stvari nam je bilo zanijekano jedan dan, samo da bi već idući postale stvarnost! – Jules Verne