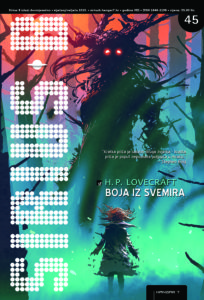 Prvi pogled na film Color Out of Space, redatelja i scenarista Richarda Stanleyja (Hardware, The Island of Dr. Moreau) smo dobili još u kolovozu, a sada je konačno stigao i prvi trailer. Riječ je o adaptaciji istoimene kratke priče H.P. Lovecrafta iz 1927. godine, koju ćete moći pročitati i u prijevodu, u 45. broju SF&F časopisa Sirius B koji stiže za Interliber 2019.
Iz trailera je vidljivo da je priča ponešto promjenjena, barem utoliko što je smještena u današnje vrijeme, i što je sama obitelj Gardner nešto drugačija. No čini se da su svi ostali bitni elementi priče zadržani.
Color Out of Space se opisuje kao priča o svemirskom teroru vezanom uz obitelj Gardner koja se odselila na vrlo udaljenu farmu kako bi pobjegli od 21. stoljeća. Oni se prilagođavaju svom novom životu kada meteorit padne u njihovo dvorište. To će žestoko poremetiti planirani mirni život obitelji, nakon što misteriozni aerolit zarazi zemlju ali i sve ostalo s neobičnom i nezemaljskom bojom. Na svoj horor obitelj će ubrzo shvatiti da ta vanzemljska sila polako mijenja svako živo biće s kojim dođe u kontakt, uključujući i njih same…
Glavnu ulogu tumači legendarni Nicolas Cage kao Nathan Gardner. U ostalim su većim ulogama Joely Richardson (Red Sparrow), Madeleine Arthur (Big Eyes), Brendan Meyer (The OA), Tommy Chong (After Hours), Elliot Knight (Titans), Julian Hilliard (The Haunting of Hill House) i Q'Orianka Kilcher (The Alienist).
Color Out of Space u kina stiže 24. siječnja 2020. godine. Film je premijeru imao u sklopu TIFF-a, a s obzirom da to nije jedini festival gdje je već prikazan možemo vam reći da dobro kotira i među kritičarima, s ocjenom od 84% na stranici Rotten Tomatoes.