Mi na Inverziji fokusirani smo na SF i fantasy žanr. No s vremena na vrijeme valja se podsjetiti da žanra ne bi bilo bez poznavanja temeljnih pravila znanosti. Zato smo presretni da je na 85. rođendan velikog znanstvenika i promotora znanosti Carla Sagana, National Geographic objavio da ćemo iduće godine, na godišnjicu kultnog dokumentarnog serijala Cosmos, imati priliku konačno vidjeti i drugu sezonu reboota ove ikonske Saganove kreacije.
Jer da, nakon neočekivane odgode, iduće godine konačno ćemo imati priliku gledati dugoočekivani Cosmos: Possible Worlds – znanstveno popularni serijal, koji će najsuvremenijim metodama, uz vodstvo astrofizičara Neila DeGrassea Tysona, prikazati najnovije spoznaje iz svijeta znanosti, ali uz twist. Naime, kako sam naslov naslućuje, u drugoj sezoni nas očekuje nas i neobično putovanje u budućnost – u svijet kakav bi mogao biti, u kojemu znanstvena fantastika sreće znanost.
Upravo je ova tematika i fokus samog trailera, u kojem nas dobro poznati Saganov melodiozni glas dovodi na obale kozmičkog oceana, u trenutak kad je čovječanstvo kao civilizacija spremno za otiskivanje u Svemir – Posljednju granicu. Nažalost Sagan nas je prerano napustio, no sigurni smo da bi se složio s ovom idejom, s pogledom u ono što bi moglo biti, ako iskoristimo tehnologiju koju imamo i odvažimo se na taj posljednji korak u nepoznato. Brod imaginacije (sada s Tysonom za kormilom) voditi će nas kroz prošlost i budućnost, prostor i vrijeme, od zore čovjeka i prvih gradova, do futurističkih građevina, kolonizacije novih svjetova, i veličanstvenih svemirskih brodova.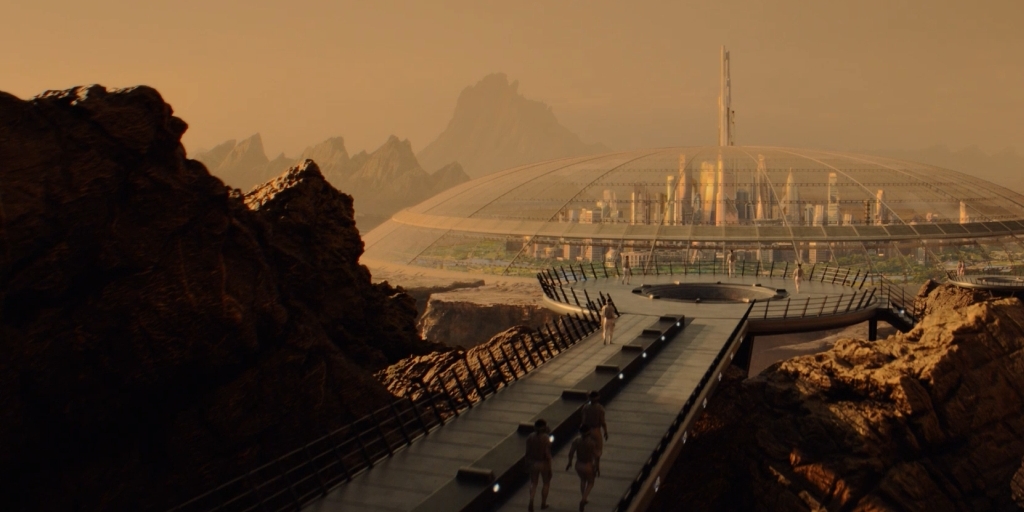 Kao i u prvoj sezoni "Cosmos: The Personal Journey", ova reimaginacija kultnog serijala, iskoristiti će najmodernije filmske tehnike i vizualne efekte, te okupiti kremu Hollywooda, da dovede znanost u naše dnevne boravke. Na tehničkoj strani tu su Emmyjem nominirani snimatelj Karl Walter Lindenlaub (Independence Day, Stargate); dizajnerica kostima i dobitnica Oscara Ruth E. Carter (Black Panther, Roots); dobitnik Emmyja i za Oscara nominirani skladatelj Alan Silvestri (The Avengers, Forrest Gump, Contact); majstor specijalnih efekata Jeffrey A. Okun (Clash of the Titans, Blood Diamond) i majstori animacije Lucas Gray (The Simpsons, Family Guy), Brent Woods (American Dad!, Family Guy) i Duke Johnson (Anomalisa, Mary Shelley's Frankenhole). Poput prošle, i ove sezone okupljena je zvjezdana postava koja će oživiti velikane prošlosti, ali i budućnosti; od Sir Patricka Stewarta (Star Trek, X-Men) kao astronoma Williama Herschela, Vigga Mortensena (Lord of the Rings, Green Book) kao sovjetskog znanstvenika Nikolaja Vavilova, do Judda Hirscha (A Beautiful Mind, Independence Day) kao Roberta Oppenheimera i Setha MacFarlanea (The Orville, Family Guy) kao Harrya S. Trumana, predsjednika Sjedninjenih Američkih Država. Prigodno, ova bi sezona trebala imati i emotivnu vezu s neprežaljenim znanstvenikom, tako da će se Saganova kćerka Sasha Sagan pojaviti u ulozi njegove majke Rachel Gruber Sagan.
Produceni serijala su Saganova udovica Ann Druyan i Seth McFarlane, dok su za scenarij i režiju još jednom zaduženi Ann Druyan i Brannon Braga.
A kakvo nas putovanje očekuje, vidjeti ćemo u 13 epizoda, na proljeće 2020., na National Geographic Channelu.