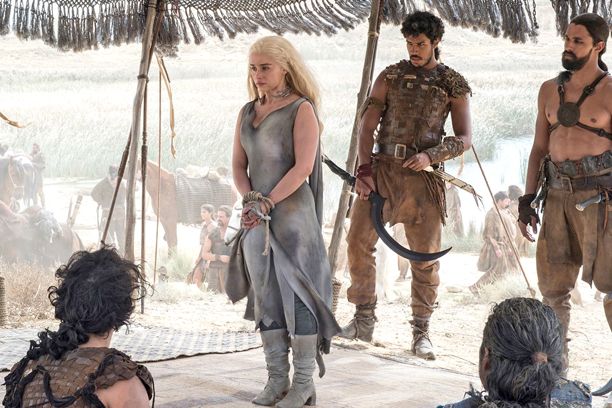 Šesta sezona Igre prijestolja sve nam je bliže i iako još nismo dobili trailer, HBO nam je priuštio čak dvadeset i četiri slike iz serije koje pokazuju nove i stare likove. Neke slike su zanimljive, neke ne otkrivaju apsolutno ništa (osim toga da se vraćaju likovi za koje smo ionako znali da se vraćaju),  ali za pravog fana će svakako i to biti dovoljno da se barem malo zadovolji glad. Pogotovo sada kada konačno više ne možemo ni slutiti tko bi mogao poginuti u sljedećoj sezoni. Ipak je to glavni razlog za gledanje, nije li?
Da sumiram nove slike: Arya je slijepa, odjevena u nešto što izgleda kao da je ranije bila vreća za krumpir i ne izgleda kao da provodi baš svoje najuspješnije trenutke. Tyrion pije, dakle radi isto što je radio od početka. Sansa i Theon su promrzli i ne ide im baš najbolje, ali barem sada definitivno znamo da su živi. Missandei sjedi na stolici. Roose i Ramsay i dalje izgledaju opako. Balon doslovno izgleda isto kao u drugoj sezoni, do te mjere da sam mislio da je ta slika i dolutala u krivi folder. Uf… Ukratko, većina likova izgleda isto i nema to baš ni smisla ni isticati.
Ono što možemo izdvojiti kao zanimljivije je: Dany izgleda kao da je definitivno pala sa svog prijestolja i sada je jednako očerupana koliko je to bila za vrijeme prve sezone. Izgleda da se stvari za nju vraćaju na staro. Margaery je u ćeliji, što bi mogla biti zanimljiva priča u nadolazećoj sezoni. Vidjet ćemo još i pokop Myrcelle Baratheon, ponovni susret Jaimea i Cersei i, možda i najzanimljivije, Brana koji ne samo da izgleda kao da je deset godina stariji nego što je to bio zadnji put kad smo ga vidjeli, već i Brana koji hoda, naizgled po Oštrozimlju, u društvu Trooke Vrane (kojega glumi izvrsni Max von Sydow). Sigurno je riječ o nekoj vrsti iluzije, odnosno, putovanja kroz vrijeme ili što već Bran sada može raditi kada je susreo svog mentora, ali nema sumnje da će biti zanimljivo.
Naravno da još nismo vidjeli Jona. Još.
Šesta sezona serije Igra prijestolja započinje na HBO-u 24. travnja, a sad kada će već jednom taj trailer!