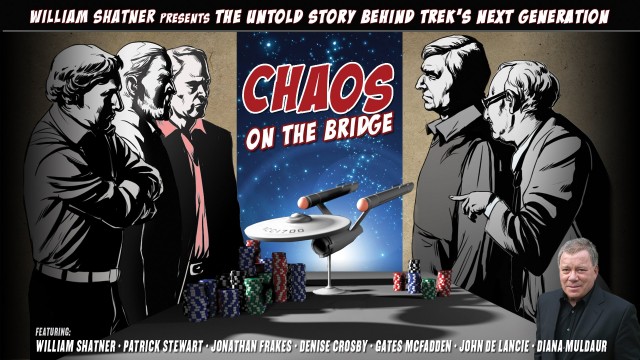 William Shatner ikona Zvjezadanih staza radio je kao glumac, pisac, redatelj i pjevač (!?) preko pedeset godina. No osim svega toga ucrtao se i na kartu kao tvorac dokumentaraca i to pogađate s njemu vrlo bliskom temom. Još 2011. godine Shatner je okupio svoje kolege kapetane za famozni dokumentarac prigodnog naziva "The Captains", dok je širi pogled na fandom Zvjezdanih staza napravio s dokumentarcem "Get a Life!" 2012. godine.
Shatnerov najnoviji dokumentarac nosi naziv "Chaos on the Bridge" te je uzeo u zadatak istraživati turbulentne rane godine serijala "Star Trek: The Next Generation". Nakon uspijeha filma "Star Trek IV: The Voyage Home" 1986. godine Paramount je konačno bio spreman oživjeti franšizu na televiziji i to s potpuno novim serijalom. Do vremena kada je TNG završio na malim ekranima 1987. godine bilo je i više nego dovoljno 'drame' koja se odvijala na setu i oko njega da bi se bez problema popunio barem jedan dokumentarac.
U dokumentarcu Chaos on the Bridge Shatner vodi razgovore s glumačkom postavom TNG-a, Patrickom Stewartom, Jonathanom Frakesom, Gatesom McFaddenom i Denise Crosby, ali isto tako razgovara i s piscima kao i producentima koji su odlučili podijeliti neke zanimljive događaje sa samih začetaka serijala.
Osim trailera uvid u najnoviji dokumentarac donosi i klip u kojem pisci i producenti Brannon Braga, Melinda Snodgrass, Ronald D. Moore, D.C. Fontana i David Gerrold raspravljaju o poteškoćama koje su imali prilikom pisanja priča za prve dvije sezone TNG-a, u nastojanju praćenja Roddenberryjevog naputka da ne smiju postojati sukobi niti konfliktne situacije među posadom broda Enterprise. Dovoljno je za početak reći da nisu svi mogli raditi s takvim ograničenjima…
Chaos on the Bridge (59 min.) je dostupan i može se rentati ili kupiti putem Vimea.