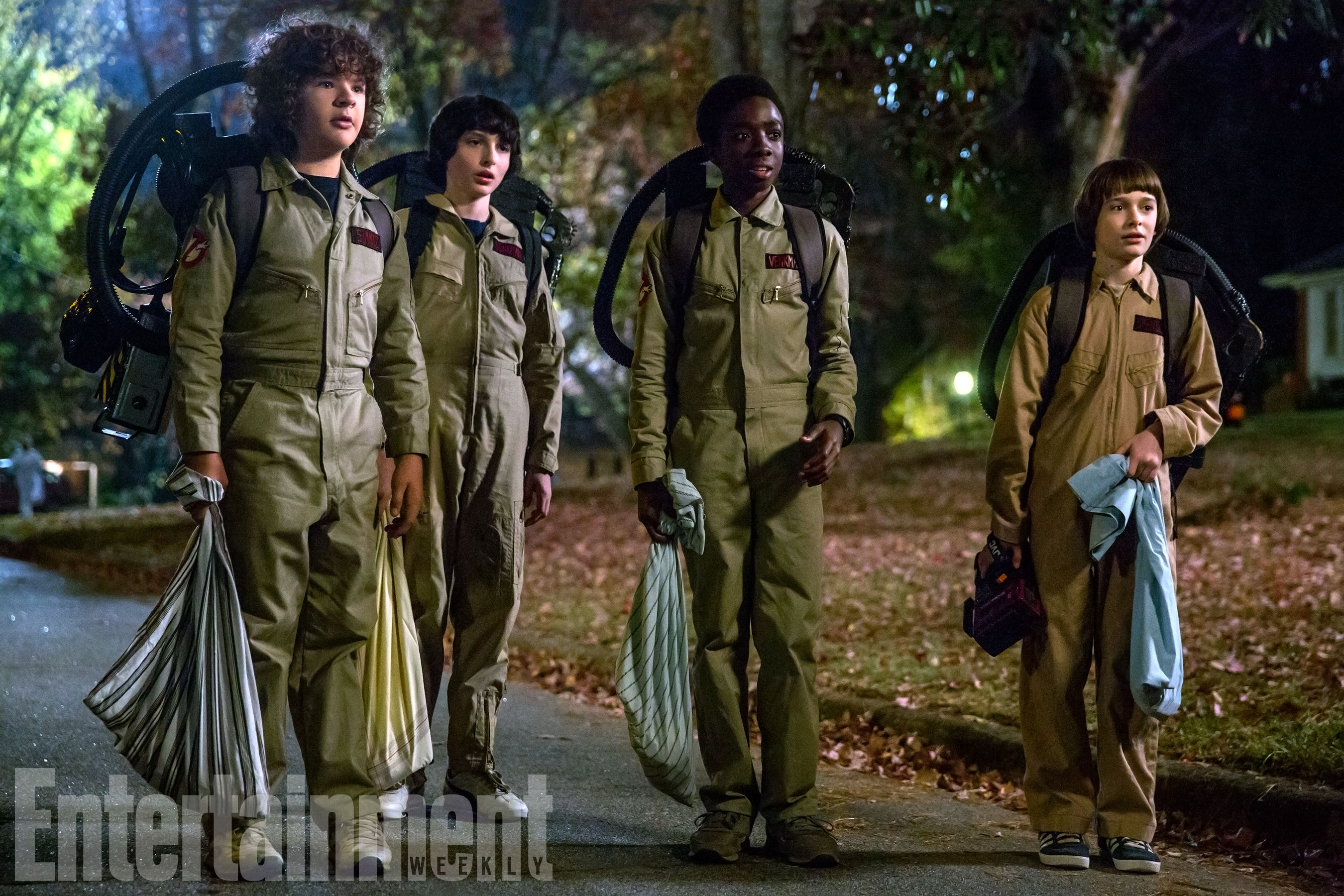 Netflix je stvarno dobro zmiksao sf seriju "Stranger Things" koja već nakon prve sezone ima horde fanova. Priča je to koja nas vodi na nostalgično putovanje, nešto što dugo nismo imali prilike gledati, a nikada nismo prerasli, unatoč našim godinama. Prva fotka koju je prije nekoliko dana objavio EW samo je povisila uloge, jer kad već serija igra na miks osamdesetih i sve što je tada bilo 'in' onda se moraju ubaciti i kultni Istjerivači duhova i to u prigodnu epizodu za Noć vještica. Ako vam je nekim čudom promakla prva fotka, sada imamo još jednu i to s boljim pogledom na četvorku koja se nalazi u svojim kostimima za Noć vještica. I to nije sve, imamo još friško pristiglih ekskluzivnih fotki (potražite ih podno teksta). Da znamo, nije tako napeto kao teaser za drugu sezonu, ali on je postavio više pitanja nego što je dao odgovora, a na dio njih sada konačno možemo i odgovoriti zahvaljujući EW-u.
Dakle što se to dešava u drugoj sezoni ST-a?
Sezona 2 započinje otprilike godinu dana nakon događaja iz prve sezone, i to u Hawkinsu oko Noći vještica.
Will (Noah Schnapp) je zaražen s nečim što je pokupio u "Upside Down", te ima vizije nečega što možda jest, ali možda i nije stvarno. "Izgleda kao da pati od PTSP-a" izjavio je Matt Duffer.
Willova mama Joyce (Winona Ryder) još uvijek pokušava držati obitelj pod 'kontrolom', te počinje izlaziti sa starim srednjoškolskim prijateljem Bobom (Sean Astin) da bi sinovi imali neku pristojnu figuru oca.
Hopper (David Harbour) se pak muči s događajima iz prve sezone, da bi ih držao što je moguće više u tajnosti. "Muči se s kompromisima koji ga tjeraju da laže i prikriva stvari."
Mike (Finn Wolfhard) i njegova sestra Nancy (Natalia Dyer) se osjećaju depresivno s obzirom da su izgubili osobe koje su im bile važne i do kojih im je bilo stalo.
Novi duo stupa na scenu Billy i Max, koju su brat i sestra. Max (Sadie Sink) se druži s dečkima od kojih su se i Lucas i Dustin zaljubili u nju. Billy (Dacre Montgomery) se pak opisuje kao klasični Kingovski zlikovac koji će donijeti i realnog, uobičajenog zla u ovu nadnaravnu priču.
Dr. Owens (Paul Reiser) koji se na prvu čini vrlo prijateljski raspoložen je preuzeo labaratorij da bi nadzirao procijep koji vodi u "Upside Down".
Dustin (Gaten Matarazzo) će dobiti ljubimca u vidu stvorenja iz druge dimenzije!
Druga sezona serije stiže na samu Noć vještica, odnosno 31. listopada.
U međuvremenu da bi lakše podnijeli čekanje nabavite ekskluzivno kod nas Funko POP! figurice Stranger Things: http://inverzija.net/shop Količina je ograničena, i radi se o prednaružbi za figurice koje stižu u trećem mjesecu, ali ako vam već sada treba vaučer da bi nešto ipak dali kao poklon onda samo ostavite napomenu u prostoru namjenjenom za to i vaučer stiže na navedeni mail još isti dan.