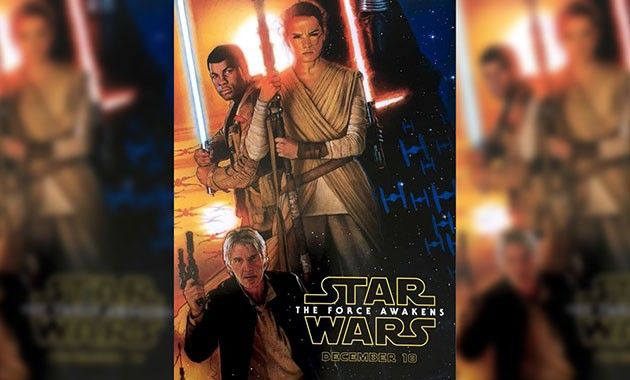 Tijekom prezentacije Lucasfilma na Disneyjevoj D23 konvenciji otkriveno je nekoliko zanimljivih stvari vezanih uz svijet Zvjezdanih ratova. Prvo je otkriven službeni poster za film "Star Wars: The Force Awakens" kojeg potpisuje fantastični Drew Struzan. I iako nije baš jedan od njegovih najboljih uradaka, čisto je okej za svrhu promo postera konvencije, jer onaj pravi koji će se lijepiti na sve strane tek treba stići. Sami poster otkrio je jednu zanimljivost – Finnov (John Boyega) svjetlosni mač je plave boje.
Zatim smo saznali koliko će biti vrijeme trajanja najnovijeg filma iz fanšize Zvjezdanih ratova koji nam stiže 18. prosinca ove godine. Prije nego to napišemo reći ćemo da je duži od filma Nova nada, ali i kraći od Epizode II: Klonovi napadaju. Za one koji nisu toliki poznavaoci franšize otkrit ćemo da je riječ o cca 124 minute, jer film se još uvijek nalazi u post-produkciji pa ništa nije zapisano u kamenu iako se cilja upravo na tu dužinu. Opet jedna zanimljivost – Imperij uzvraća udarac je dugačak točno 124 minute.
Treća novost vezana je uz prvi pogled na film "Star Wars: Rogue One" redatelja Garetha Edwardsa (Godzilla, Monsters). Dobili smo prvu fotografiju koju možete pogledati u vsokoj rezoluciji ispod teksta. Za one koji ne znaju ponovit ćemo da je riječ o spinoffu koji u centru radnje ima grupu pobunjenika udruženih sa ciljem krađe planova za zloglasnu Zvijezdu smrti. Glumačku ekipu čine Felicity Jones (The Theory of Everything), Diego Luna (Killing Them Softly), Ben Mendelsohn (Bloodline), Donnie Yen (Blade II), Jiang Wen (Devils on the Doorstep), Forest Whitaker (The Last King of Scotland), Mads Mikkelsen (The Hunt), Alan Tudyk (Firefly) i Riz Ahmed (Nightcrawler). "Rogue One: A Star Wars Story" na velika platna stiže 16. prosinca 2016.
Također je potvrđeno da će redatelj Epizode IX koja stiže 2019. godine biti Colin Trevorrow (Jurassic World).