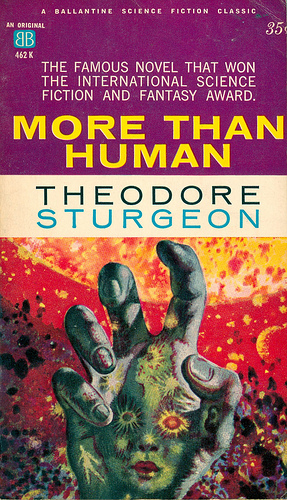 Jedan od ponajboljih sf pisaca, Theodore Sturgeon, rodio se na današnji dan, 26. veljače,  1918. godine. Rođen kao Edward Hamilton Waldo, Sturgeon je bio daljnji rođak Ralpha Waldo Emersona, a njegovo najpoznatije djelo je roman Više nego ljudski objavljen 1953. godine.
Iako je počeo objavljivati priče 1937., prva objavljena koja je bila sf je Ether Breather (rujan 1939. Astounding). Pisao je nekoliko godina da bi iznenada prestao objavljivati na par godina. Ponovo se vraća sf-u 1946. godine i sljedećih petnaestak kontinuirano objavljuje izvrsne stvari, premda njegov opus nije pretjerano poznat široj publici.
Njegov utjecaj na brojne pisce je neosporan, pogotovo u periodu odmah nakon Drugog svjetskog rata. Delany, Ellison, Bradbury, Asimov, Vonnegut  samo su neki od velikana čiji radovi reflektiraju Sturgeonov utjecaj.  Kildozer!, The Perfect Host, A Saucer of Loneliness, The Other Man, If All Men Were Brothers, Would You Let One Marry Your Sister? samo su neke od njegovih izvrsnih priča.
Od njegove izjave iz 1951. godine, skovano je ono što danas znamo kao Sturgeonov zakon: "90 posto (znanstvene-fantastike) je smeće, ali i 90 posto svega ostaloga je također smeće."
Ako još niste, svakako se uhvatite opusa ovog velikana i iznenadit ćete se kvalitetom pisanja i temama kojima se Theodore Sturgeon bavio u svojim djelima.