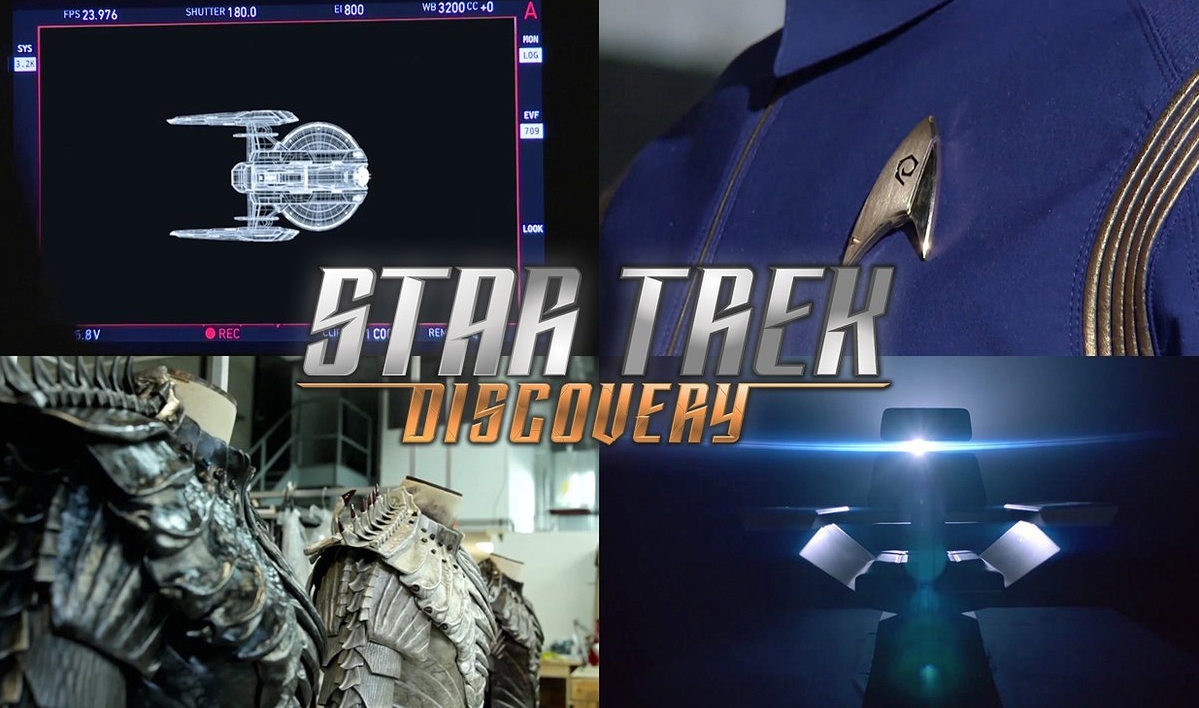 Ovo su bili zanimljivi dani za "Star Trek: Discovery" koji se nakon inicijalnih poteškoća trenutno snima u Torontu. Prvo su stigle još nepotvrđene informacije o novom članu posade, pilotkinji koju bi trebala glumiti Emily Coutts (Crimson Peak). Dan kasnije, službena stranica promijenila je logo, zamijenivši futuristički i apstraktni izlomljeni delta štit, u prepoznatlji simbol bliži originalnoj seriji (iako je lom ostao, ali je suptilnije izražen). Iste večeri CBS je objavio i prvi pravi teaser trailer.
Budući da je odabir perioda u koji je Discovery smješten izazvao podijeljenje reakcije (10 godina prije Kirkove misije), od CBS-a se očekuje da uvjeri fanove da će nova serija dostojno pratiti tradiciju. I doista, teaser započinje kultnom prvom rečenicom kojom je kreator Star Treka, Gene Rodenberry prije 50 godina stvorio legendu: "STAR TREK is…" Ono što slijedi je nostalgično putovanje kroz slavnu povijest ove kultne SF franšize. Prikazane su slike iz svih TV serija, od TOS-a s kojim je put kroz zvijezde započeo do Enterprisea. Zanimljivo je napomenuti da u nostalgičnom slideshowu nema spomena Abramsovih reboota. Ako je ikad bilo kakve dvojbe, sada je potvrđeno – Star Trek se vratio tamo gdje pripada, u televizijski Prime universe.
Nakon nostalgičnog kronološkog pregleda, teaser nam konačno daje ono što smo dugo čekali. U pola minute dobili smo prvi pogled na Discovery i dovoljno materijala za beskrajne debate u danima i tjednima koji slijede. Video započinje prikazom na set u konstrukciji, koji najvjerojatnije predstavlja most jednog od brodova. Prisjetimo se, Discovery bi radnju trebao prikazati ne samo iz perspektive titularnog broda, već i federacijskog broda Shenzhou i još nepotvrđene, ali vrlo vjerojatne klingonske ptice grabljivice. Slijedi prikaz kostima, oklopa koji bi mogli pripadati Klingoncima, i vjerojatno najvažnije, prvi pogled na uniformu koju će nositi članovi posade USS Discovery. Stilski i dizajnom mornaričko plava uniforma podsjeća na onu posade Enterprisea NX-01, ali i na field-uniform iz pilot epizode TOS-a, "The Cage". Još jednom vidimo concept art titularnog broda, koji unatoč najavama o promjenama, i dalje odlikuje kontroverzan dizajn. No vrlo je vjerojatno da su to stare slike, i da se pravi dizajn čuva za grand reveal. Ono što je posebno zanimljivo je prikaz još jednog broda – najvjerojatnije USS Shenzou – koji dizajnom podsjeća na evoluirani NX-01, ili Centaur-class. Na samom kraju, teaser nam daje dobar pogled na vjerojatno najvažniji element na brodu – kapetanovu stolicu (iako glavna glumica, barem na početku, neće nositi kapetanski čin).
Iako datuma još nema, ako ne naleti na još koju anomaliju, Discovery bi trebao stići u naš kvadrant krajem ove, ili početkom iduće godine.
Production has begun on the next chapter. #StarTrekDiscovery is coming to CBS All Access. https://t.co/b1uni2YyKp pic.twitter.com/19pmY4JBFd

— Star Trek: Discovery (@startrekcbs) 31. siječnja 2017.