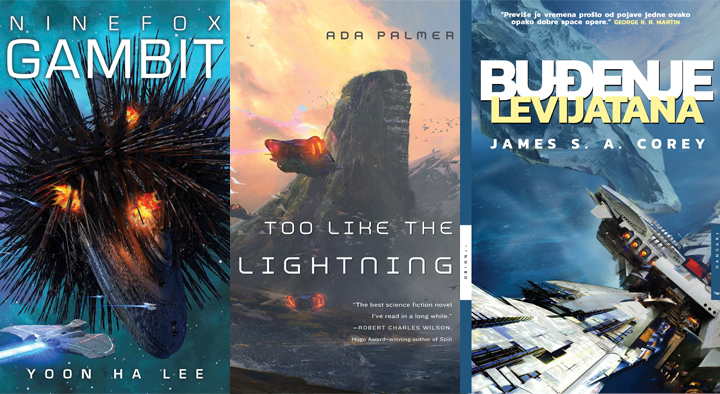 Nakon nekoliko godina u kojima su štenci pokušavali biti tužni, bijesni, pa čak i slatki (OK, lažem, to nisu), situacija s nagradom Hugo konačno se smirila i ovogodišnje nominacije su, po svemu sudeći, većinom jako pametne.
Za najbolji roman tako su nominirani naslovi All the Birds in the Sky Charlie Jane Anders, AClosed and Common Orbit Becky Chambers, Death's End Cixina Liua, Ninefox Gambit Yoona Ha Leeja, The Obelisk Gate N. K. Jemisin i  Too Like the Lightning Ade Palmer.
Cixin Liu proslavio se svojim prethodnim Hugom za prvi roman u ovoj seriji, The Three-Body Problem. Komplicirana priča koja postavlja pitanja o prirodi i smislu života, univerzuma i svega ostalog i šeće kroz vrijeme i prostor u Kraju smrti dolazi do svog velikog finala i nije nimalo čudno što je nominirana.
The Obelisk Gate N. K. Jemisin je također nastavak, no ovog puta radi se o drugom tomu trilogije o Slomljenoj zemlji, započete romanom The Fifth Season. Jemisin je sjajna spisateljica, a svijet koji prikazuje u ovoj trilogiji (treći tom, The Stone Sky, očekuje se ovog ljeta) osmišljen je originalno i istovremeno jezivo uvjerljivo, dok su likovi, kao što je to kod Jemisin obično slučaj, neočekivani i zanimljivi. Nakon što je Peto godišnje doba pobralo cijelo brdo nagrada, doduše, teško je očekivati da će se isto ponoviti i s ovim romanom, ali ako se to i dogodi, Hugo će otići u zaslužne ruke.
Moram priznati da me iznenadilo što su se Sve ptice nebeske našle među nominacijama, ne zato što je roman loš – nije – nego jer djeluju kao ona vrst žanrovske književnosti koja se može provući i pod neku čudnu varijantu magijskog realizma. Vještica čiji je jedini talent sposobnost razgovaranja s pticama, i ludi znanstvenik čiji stroj doduše može putovati kroz vrijeme ali samo dvije sekunde unaprijed ipak su izgleda osvojili i čisto žanrovsko čitateljstvo. Doduše, Anders su neki kritičari već usporedili s Gaimanom, što nije neosnovano, i opet, i ovaj bi odabir bio potpuno jasan.
Ninefox Gambit mi, priznajem, već neko vrijeme stoji u TBR-gomilici, kamo je dospio zbog priče "The Battle of Candle Arc", smještene u istom svijetu. Leejev koncept kalendarske tehnologije sam po sebi dovoljno je intrigantan da opravda nominaciju, a kombinirano s pisanjem koje svako malo iznenadi poetičnošću, humorom ili stravom (da, u istoj priči, ponekad i u istoj rečenici) daje još jedan naslov kojem bi raketa stajala sasvim prirodno.
Na istoj hrpici čeka i Too Like the Lightning Ade Palmer, koji se tamo našao jednostavno zato što su ga pohvalili Jo Walton, Steven Brust i Ken Liu – pomalo neočekivana kombinacija, ali definitivno dovoljna garancija da je Terra Ignota mjesto koje želite posjetiti. Ako mi ne vjerujete na riječ, bacite pogled na prva poglavlja romana, koja je Tor objavio prošle godine na svome sajtu.
Konačno, čujem da je i A Closed and Common Orbit puno više nego što se na prvi pogled čini. Iskreno, ja sam ga preskočila jer već dugo imam problema sa space operom i motley crews (pa i s Mötley Crüeom), no s obzirom na ostatak konkurencije, vjerujem da bi i ovo vrijedilo pročitati.
Kod nominacija za novelu je slična situacija: na popisu su stvari poput The Dream-Quest of Vellitt Boe Kij Johnson i The Ballad of Black Tom Victora LaVallea, dvije sasvim različite reinterpretacije lavkraftovskog svijeta koje bi samog Lovecrafta vjerojatno otjerale u nepojmljivu geometriju od čistog užasa. Tu je sjajan fantasy A Taste of Honey  Kai Ashantea Wilsona, dirljivi i jezoviti Every Heart a Doorway Seann McGuire, i očekivano komplicirani i inventivni This Census-Taker Chine Miévillea – pa hajde vi sad odlučite tko je tu zaslužio Huga. I da, tu je i Penric and the Shaman Lois McMaster Bujold, koju nisam čitala, ali opet, to je Bujold, koju voli toliko ljudi da na nju uopće ne treba trošiti riječi.
Kod kraćih formi, dvaput se pojavljuje ime koje, ako niste još, svakako trebate zapamtiti, Alyssa Wong. Ako ne vjerujete meni, pogledajte samo njene nominirane radove: "You'll Surely Drown if You Stay" iz Uncanny Magazinea, te kratku priču "A Fist of Permutations in Lightning and Wildflowers" na Tor.com. I mnoge ostale priče dostupne su na webu, pa je najbolje uzeti vremena i pročitati ih, jer je konkurencija zaista opaka, osim što su štenci uspjeli ugurati jednu šapicu, Johna C. Wrighta, s pričom "An Unimaginable Light", o kojoj ne mogu reći ništa osim da je zbirku iz koje priča dolazi objavila Castalia House, kojom vlada Vox Day… a ako ne znate što to znači, možda je i bolje da ostanete u neznanju.
Gužva je i u jedanaestercu za tzv. related works, jer su ove godine među nominiranima i Sarah Gailey, i Kameron Hurley, ali i Carrie Fisher, Robert Silverberg, Neil Gaiman i Ursula K. Le Guin, što je već dovoljno da se svakom poštenom giku zavrti u glavi. Priznajem da navijam za The Princess Diarist, iz čisto sentimentalnih razloga, ali zapravo je i u ovoj kategoriji praktički nemoguće promašiti. Uz još dva odskoka Castalije i njenih mračnih hordi, ostale kategorije nude uglavnom poznata i/ili predvidljiva imena kod kojih se možda može raspravljati o boljim ili lošijim godinama, trenucima, uradcima, ali, doista, nominirani su svoja mjesta na popisu zaslužili poštenim i kvalitetnim radom, i ne vjerujem da će itko biti posebno ljut ako s raketicom kući ode Sheila Williams umjesto Ellen Datlow, ili Julie Dillon umjesto Johna Picacia.
Ukratko, ovo će biti jedna od onih godina kad će se dodjela pratiti iz iskrene znatiželje da vidite tko je dobio, a ne čekajući skandal. Možda sam staromodna, ali takvi Hugači mene zapravo najviše vesele.
Nominacije za nagradu Hugo 2017. po kategorijama:
Roman:
All the Birds in the Sky, Charlie Jane Anders (Tor Books / Titan Books)
A Closed and Common Orbit, Becky Chambers (Hodder & Stoughton / Harper Voyager US)
Death's End, Cixin Liu, translated by Ken Liu (Tor Books / Head of Zeus)
Ninefox Gambit, by Yoon Ha Lee (Solaris Books)
The Obelisk Gate, by N. K. Jemisin (Orbit Books)
Too Like the Lightning, Ada Palmer (Tor Books)
Serijal:
The Craft Sequence, Max Gladstone (Tor Books)
The Expanse, James S.A. Corey (Orbit US / Orbit UK) Prvu knjigu iz serijala Buđenje Levijatana možete kupiti u prijevodu na Inverzijinom webshopu.
The October Daye Books, Seanan McGuire (DAW / Corsair)
The Peter Grant / Rivers of London, Ben Aaronovitch (Gollancz / Del Rey / DAW / Subterranean)
The Temeraire, Naomi Novik (Del Rey / Harper Voyager UK)
The Vorkosigan Saga, Lois McMaster Bujold (Baen)
Novela:
The Ballad of Black Tom, Victor LaValle (Tor.com publishing)
The Dream-Quest of Vellitt Boe, Kij Johnson (Tor.com publishing)
Every Heart a Doorway, Seanan McGuire (Tor.com publishing)
Penric and the Shaman, Lois McMaster Bujold (Spectrum Literary Agency)
A Taste of Honey, Kai Ashante Wilson (Tor.com publishing)
This Census-Taker, China Miéville (Del Rey / Picador)
Noveleta:
Alien Stripper Boned From Behind By The T-Rex, Stix Hiscock (samizdat)
"The Art of Space Travel", Nina Allan (Tor.com , srpanj 2016)
"The Jewel and Her Lapidary", Fran Wilde (Tor.com, svibanj 2016)
"The Tomato Thief", Ursula Vernon (Apex Magazine, siječanj 2016)
"Touring with the Alien", Carolyn Ives Gilman (Clarkesworld Magazine, travanj 2016)
"You'll Surely Drown Here If You Stay", Alyssa Wong (Uncanny Magazine, svibanj 2016)
Kratka priča:
"The City Born Great", N. K. Jemisin (Tor.com, rujan 2016)
"A Fist of Permutations in Lightning and Wildflowers", Alyssa Wong (Tor.com, ožujak 2016)
"Our Talons Can Crush Galaxies", Brooke Bolander (Uncanny Magazine, November 2016)
"Seasons of Glass and Iron", Amal El-Mohtar (The Starlit Wood: New Fairy Tales, Saga Press)
"That Game We Played During the War", Carrie Vaughn (Tor.com, ožujak 2016)
"An Unimaginable Light", John C. Wright (God, Robot, Castalia House)
Teorija/publicistika:
The Geek Feminist Revolution, Kameron Hurley (Tor Books)
The Princess Diarist, Carrie Fisher (Blue Rider Press)
Traveler of Worlds: Conversations with Robert Silverberg, Robert Silverberg and Alvaro Zinos-Amaro (Fairwood)
The View From the Cheap Seats, Neil Gaiman (William Morrow / Harper Collins)
The Women of Harry Potter posts, Sarah Gailey (Tor.com)
Words Are My Matter: Writings About Life and Books, 2000-2016, Ursula K. Le Guin (Small Beer)
Grafička novela/strip:
Black Panther, Volume 1: A Nation Under Our Feet, scenarij Ta-Nehisi Coates, crtež Brian Stelfreeze (Marvel)
Monstress, Volume 1: Awakening, scenarij Marjorie Liu, icrtež Sana Takeda (Image)
Ms. Marvel, Volume 5: Super Famous, scenarij G. Willow Wilson, crtež Takeshi Miyazawa (Marvel)
Paper Girls, Volume 1, scenarij Brian K. Vaughan, crtež Cliff Chiang (Image)
Saga, Volume 6, scenarij Brian K. Vaughan, crtež Fiona Staples (Image)
The Vision, Volume 1: Little Worse Than A Man, scenarij Tom King, crtež Gabriel Hernandez Walta (Marvel)
Film (dugometražni)/serija:
Arrival, scenarij Eric Heisserer prema kratkoj priči Teda Chianga, režija Denis Villeneuve (21 Laps Entertainment/FilmNation Entertainment/Lava Bear Films)
Deadpool, scenarij Rhett Reese & Paul Wernick, režija Tim Miller (Twentieth Century Fox Film Corporation/Marvel Entertainment/Kinberg Genre/The Donners' Company/TSG Entertainment)
Ghostbusters, scenarij Katie Dippold & Paul Feig, režija Paul Feig (Columbia Pictures/LStar Capital/Village Roadshow Pictures/Pascal Pictures/Feigco Entertainment/Ghostcorps/The Montecito Picture Company)
Hidden Figures, scenarij Allison Schroeder i Theodore Melfi, režija Theodore Melfi (Fox 2000 Pictures/Chernin Entertainment/Levantine Films/TSG Entertainment)
Rogue One, scenarij Chris Weitz i Tony Gilroy, režija Gareth Edwards (Lucasfilm/Allison Shearmur Productions/Black Hangar Studios/Stereo D/Walt Disney Pictures)
Stranger Things, prva sezona, tvorci braća Duffer (21 Laps)
Film (kratkometražni)/epizoda/glazbeni album:
Black Mirror: "San Junipero", scenarij Charlie Brooker, režija Owen Harris (House of Tomorrow)
Doctor Who: "The Return of Doctor Mysterio", scenarij Steven Moffat, režija Ed Bazalgette (BBC Cymru Wales)
The Expanse: "Leviathan Wakes", scenarij Mark Fergus i Hawk Ostby, režija Terry McDonough (SyFy)
Game of Thrones: "Battle of the Bastards", scenarij David Benioff i D. B. Weiss, režija Miguel Sapochnik (HBO)
Game of Thrones: "The Door", scenarij David Benioff i D. B. Weiss, režija Jack Bender (HBO)
Splendor & Misery (album), izvođač Clipping (Daveed Diggs, William Hutson, Jonathan Snipes)
Urednik (kratka forma):
John Joseph Adams
Neil Clarke
Ellen Datlow
Jonathan Strahan
Lynne M. Thomas & Michael Damian Thomas
Sheila Williams
Urednik (duga forma):
Vox Day
Sheila E. Gilbert
Liz Gorinsky
Devi Pillai
Miriam Weinberg
Navah Wolfe
Profesionalni umjetnik:
Galen Dara
Julie Dillon
Chris McGrath
Victo Ngai
John Picacio
Sana Takeda
Semiprozin:
Beneath Ceaseless Skies, urednik i nakladnik Scott H. Andrews
Cirsova Heroic Fantasy and Science Fiction Magazine,urednik P. Alexander
GigaNotoSaurus, urednica Rashida J. Smith
Strange Horizons, urednici Niall Harrison, Catherine Krahe, Vajra Chandrasekera, Vanessa Rose Phin, Li Chua, Aishwarya Subramanian, Tim Moore, Anaea Lay
Uncanny Magazine, urednici Lynne M. Thomas & Michael Damian Thomas, Michi Trota, Julia Rios, producenti Erika Ensign & Steven Schapansky
The Book Smugglers, urednice Ana Grilo i Thea James
Fanzin:
Castalia House Blog, urednik Jeffro Johnson
Journey Planet, urednici James Bacon, Chris Garcia, Esther MacCallum-Stewart, Helena Nash, Errick Nunnally, Pádraig Ó Méalóid, Chuck Serface i Erin Underwood
Lady Business, urednici Clare, Ira, Jodie, KJ, Renay i Susan
nerds of a feather, flock together, urednici The G, Vance Kotrla i Joe Sherry
Rocket Stack Rank, urednici Greg Hullender i Eric Wong
SF Bluestocking, urednica Bridget McKinney
Fancast:
The Coode Street Podcast, Gary K. Wolfe i Jonathan Strahan
Ditch Diggers, Mur Lafferty i Matt Wallace
Fangirl Happy Hour, Ana Grilo i Renay Williams
Galactic Suburbia, Alisa Krasnostein, Alexandra Pierce i Tansy Rayner Roberts, Andrew Finch
The Rageaholic, RazörFist
Tea and Jeopardy, Emma Newman i Peter Newman
Fanovski pisac:
Mike Glyer
Jeffro Johnson
Natalie Luhrs
Foz Meadows
Abigail Nussbaum
Chuck Tingle
Fanovski umjetnik:
Ninni Aalto
Alex Garner
Vesa Lehtimäki
Likhain (M. Sereno)
Spring Schoenhuth
Mansik Yang
The John W. Campbell Award za najboljeg novog pisca:
Sarah Gailey
J. Mulrooney
Malka Older
Ada Palmer
Laurie Penny
Kelly Robson