In the Earth iliti In the Evrth, najnoviji neobični uradak filmaša Bena Wheatleyja (Rebecca, A Field in England, Kill List) je dobio zlosutni poster i datum izlaska. Film je Wheatley napisao dva tjedna nakon početka karantene prošle godine. Riječ je o horor filmu snimljenim s mikro budžetom, koji je svoju premijeru doživio na Sundance Film Festivalu, i trenutno ga prati vrlo pozitivan buzz kao te više nego pristojne ocjene na stranici Rotten Tomatoes, gdje kod kritičara ima 79%. Producenti su Andy Starke, Tom Quinn i Jeff Deutchman.
S obzirom na vrijeme kada je napisan neće vas sigurno začuditi da se In the Earth odvija za vrijeme pandemije. Dok svijet traži lijek za devastirajući virus, znanstvenik i izviđač parka kreću duboku u šumu u rutinsku provjeru opreme. Kroz noć njihovo putovanje postaje zastrašujuće putovanje kroz srce tame, šume koja oko njih oživljava.
Glavne uloge tumače Joel Fry, Ellora Torchia, Hayley Squires, Reece Shearsmith, John Hollingworth i Mark Monero.
"Wheatley ima smisla za prenošenje svojevrsne božansvene ludosti svojim radom, priča priče o zelotima koji posežu za stvarima izvan ljudskog razumijevanja, a takvi dosezi često rezultiraju zastrašujućim nasiljem. Ovdje je pravo bogatstvo krupnih kadrova upropaštenog, krvavog, otvorenog mesa; kože zašivene sa stranim predmetima umetnutim ispod površine. Sve je to tako jezivo i čudno i nekako predivno." – Slash Film
In the Earth na velika platna stiže već 30. travnja.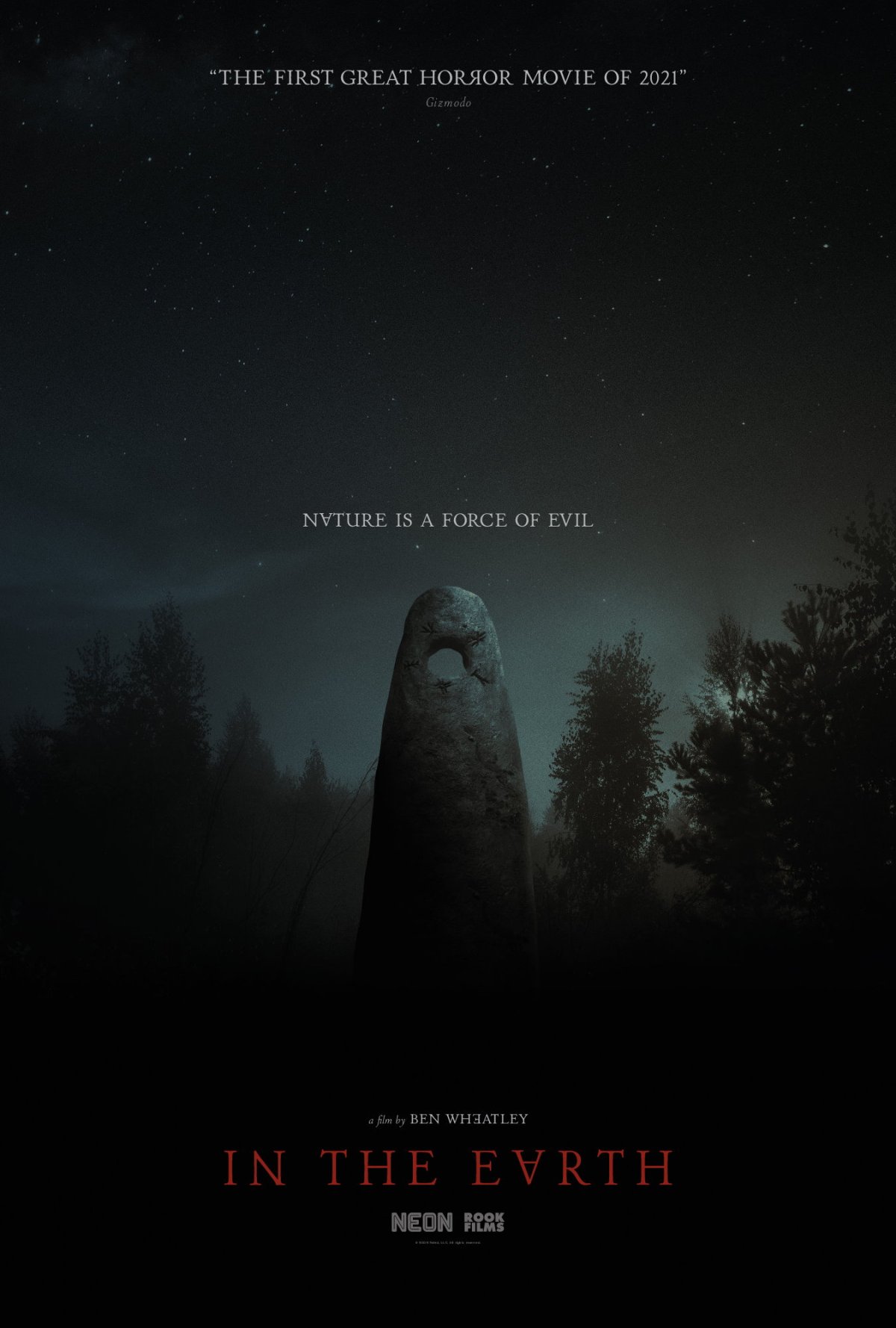 The new trip from Ben Wheatley, IN THE EARTH, is creeping #Sundance 2021 pic.twitter.com/5DShZFrHV4

— NEON (@neonrated) December 15, 2020