Hulu razvija tv seriju Hitchhiker's Guide to the Galaxy (Vodič kroz galaksiju za autostopere) nastojeći Adamsov kultni uradak uspješno dovesti i na male ekrane. Izvršni producenti, showrunneri i scenaristi serije su Carlton Cuse (Lost, Tom Clancy's Jack Ryan, Locke & Key) i Jason Fuchs (Wonder Woman, Ice Age: Continental Drift). Serija zapravo originalno dolazi od Disneyjevog ABC Signaturea, ogranka ABC Studiosa koji u fokusu ima razvijanje programa za kabelsku televiziju i streaming platformu.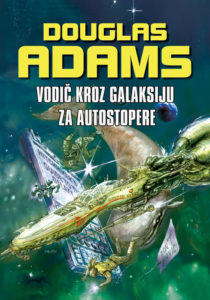 Disney je sada većinski vlasnik Hulua, posjeduje prava na Adamsove romane, i producirao je igrani film The Hitchhiker's Guide to the Galaxy iz 2005. u kojem su glavne uloge ostvarili Martin Freeman, Mos Def i Zooey Deschanel. Stoga iako ova vijest nije službeno potvrđena, zvuči više nego uvjerljivo, tim više jer se Hulu nije odmah oglasio kako bi opovrgnuo ono što je Deadline ekskluzivno prenio.
Douglas Adams je incijalno stvorio The Hitchhiker's Guide to the Galaxy kao radio dramu za BBC. Zatim ju je pretvorio u kultni književni serijal od čak šest nastavaka. Radnja se odvija oko Arthura Denta, običnog čovjeka koji igrom slučaja postaje svemirski putnik nakon što vanzemaljci "razruše" Zemlju da bi napravili prostor za izgradnju svemirske obilaznice. S obzirom da je u pitanju ipak šest romana materijala za serijalizirani format ima, i može se vidjeti draž u takvoj ludoj avanturi, ali stvari bi mogle poći i vrlo krivo. Adamsov humor i absurdni dijelovi romana se teško prevode na pokretne sličice što je donekle dokazao i ranije spomenuti film.