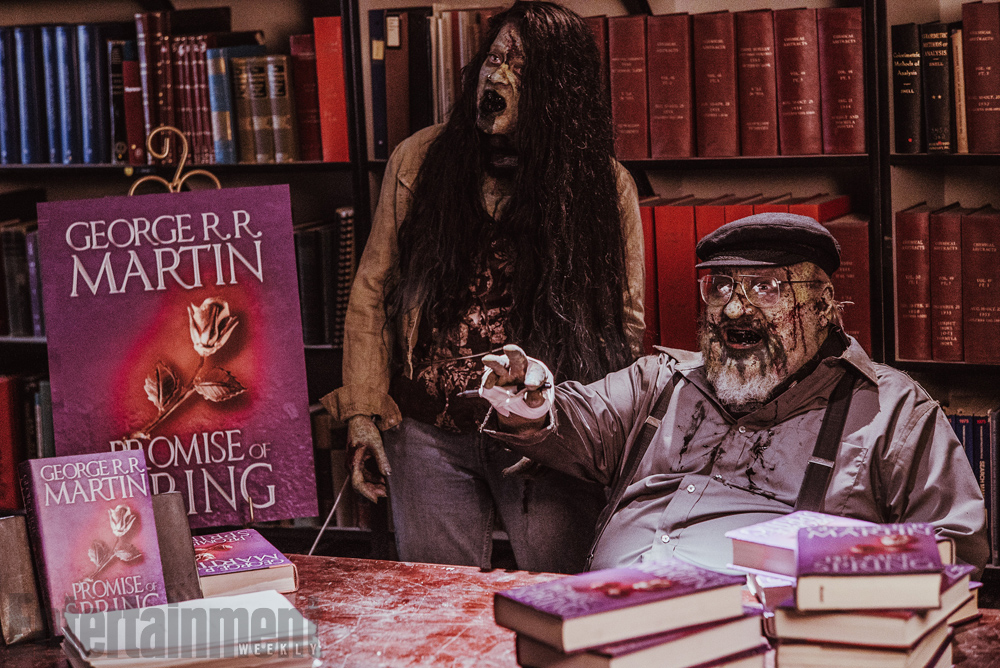 Ništa neće spriječiti Georgea R.R. Martina od završavanja knjiga iz serijala Pjesma leda i vatre. Popularni autor će imati cameo ulogu u drugoj sezoni Syfy-eve postapokaliptične serije "Z Nation" u kojoj će tumačiti sam sebe, ali u varijanti zombija. Kao što možete vidjeti iz priloženih fotografija Martin je regularni nemrtvi dok potpisuje svoje knjige, a čak i pokušava pojesti jednu. Naslov same knjige je zanimljiv "A Promise of Spring" jer bi očekivani sedmi i posljednji roman iz serijala trebao nositi naslov "A Dream of Spring". Trenutno Martin radi na više nego ičekivanoj šestoj knjizi "The Winds of Winter".
Martina ćete moći gledati u osmoj epizodi druge sezone serije Z Nation koja je krenula s prikazivanjem već sinoć s prvom epizodom.
Za one koji ne znaju spomenut ćemo da ovo nije prvi puta da se Martin pojavljuje na malim ekranima, dapače, mogli ste ga ga gledati u CBS-ovoj verziji "Beauty and the Beast" na kojoj je također radio i kao scenarist, te u Syfy-ovom filmu "Sharknado 3! Oh Hell No!". Ono što je interesantno jest da takvu ulogu još nije imao u seriji Igra prijestolja, iako nećemo preskočiti činjenicu da je u originalnoj verziji pilota koja nije bila emitirana imao ulogu gosta na Danyjinom vjenčanju.
I just want to prove to my fans that even in the Zombie Apocalypse, the Song of Ice and Fire books will still come out!