Antologijska SF serija Electric Dreams je već doživjela prikazivanje prve polovice prve sezone u Ujedinjenom Kraljevstvu na kanalu Channel 4. Preostale epizode, točnije njih četiri se očekuju početkom iduće godine. Na Amazon Prime Electric Dreams treba tek stići, i to 12. siječnja 2018. godine. Serija će tada putem Amazona biti dostupna ne samo kompletnoj američkoj publici nego i gledateljima u Njemačkoj, Indiji, Italiji, Japanu, Šapanjolskoj i Turskoj. Također će putem Stana biti dostupna publici u Australiji, te putem Spacea u Kanadi. Tada se nadamo da će i eksponiranost serije narasti jer se o nije nije pisalo ni izbliza koliko zaslužuje.
Pretpostavljamo da vas nema puno koji niste čuli za ovu interesantnu distopijsku seriju, jer ako nas pratite tada vam je zasigurno zapeo za oko neki od naših članaka na tu temu ili barem osvrt na prvu polovicu sezone. No u slučaju da ste nekako uspjeli preskočiti naše članke ponovit ćemo da se radi o seriji baziranoj na kratkim pričama kultnog žanrovskog autora Philipa K. Dicka. Serija je nastala u koprodukciji gdje su snage udružili Channel 4 i Amazon, pa stoga ne čudi emitiranje na obje platforme. Riječ je o deset samostalnih epizoda od kojih je svaka smještena u svoj jedinstveni svijet, ali im je zajedničko što istražuju važnost i značaj čovječanstva. Amazon je vijest o datumu premijere na njihovoj platformi popratio i galerijom fotografija iz cijele prve sezone serije.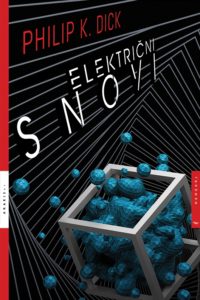 Glavne uloge u seriji Electric Dreams tumače Steve Buscemi (Boardwalk Empire), Bryan Cranston (Breaking Bad), Greg Kinnear (Heaven is For Real), Maura Tierney (The Affair), Janelle Monáe (Moonlight), Mireille Enos (The Catch), Anna Paquin (True Blood), Terrence Howard (Empire), Timothy Spall (Mr. Turner), Liam Cunningham (Game of Thrones), Richard Madden (Game of Thrones), Holliday Grainger (The Finest Hours), Mel Rodriguez (Last Man on Earth), Vera Farmiga (Bates Motel), Jack Reynor (Macbeth), Essie Davis (The Babadook), Benedict Wong (Doctor Strange), Geraldine Chaplin (A Monster Calls), Juno Temple (Vinyl) i David Lyons (Revolution).
Domaći nakladnik, Hangar 7 je netom izdao zbirku priča Električni snovi Philipa K. Dicka, po čijim motivima je i snimljena istoimena serija. Kako to najčešće biva očekujte da će na vas dublje utjecati same priče nego njihova prilično slobodna tv interpretacija. Stoga ako vam je nešto nedostajalo u prvoj polovici prve sezone serije, tada ćete to sigurno pronaći u zbirci koju možete nabaviti po najpovoljnijoj cijeni upravo na Inverzijinom webshopu.