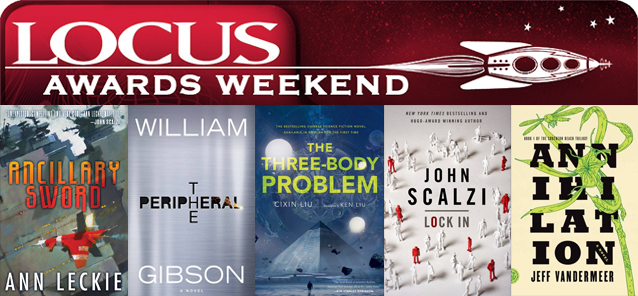 Na netom održanom Locus Weekendu u Seattleu, objavljeni su dobitnici nagrade najprestižnijeg magazina za znanstvenu-fantastiku koja se pod imenom Locus Award dodjeljuje od 1971. godine. Zanimljiva, a danas svakako i aktulana jest i činjenica da je nagrada nastala iz potrebe da se utječe na nagradu Hugo. Locusovu nagradu određuju čitatelji magazina, a za očekivati je da među njima ima puno onih koji su samo fanovi, a ne i profesionalci u žanru. Dakle, premda manja, ali slična baza glasača kao i za Huga. U svjetlu posljednjih događaja oko Huga, zanimljivo je vidjeti što je dobilo Locusa, usporediti to s dobitnicima Nebule i pripremiti se na ono što nas čeka za koji mjesec na Worldconu i dodjeli Huga. U popisu, dobitnici su na prvome mjestu i boldani, a, naravno, dobitnike u kraćoj formi imat će te prilike čitati u narednim brojevima Siriusa B:
ZNANSTVENO-FANTASTIČNI ROMAN
Ancillary Sword, Ann Leckie
The Peripheral, William Gibson
The Three-Body Problem, Cixin Liu
Lock In, John Scalzi
Annihilation/Authority/Acceptance, Jeff VanderMeer
FANTASY ROMAN
The Goblin Emperor, Katherine Addison
Steles of the Sky, Elizabeth Bear
City of Stairs, Robert Jackson Bennett
The Magician's Land, Lev Grossman
The Mirror Empire, Kameron Hurley
KNJIGA ZA MLADE

Half a King, Joe Abercrombie
The Doubt Factory, Paolo Bacigalupi
Waistcoats & Weaponry, Gail Carriger
Empress of the Sun, Ian McDonald
Clariel, Garth Nix (Harper; Hot Key; Allen & Unwin)
PRVI ROMAN

The Memory Garden, Mary Rickert
Elysium, Jennifer Marie Brissett
A Darkling Sea, James L. Cambias
The Clockwork Dagger, Beth Cato
The Emperor's Blades, Brian Staveley
NOVELA
Yesterday's Kin, Nancy Kress
The Man Who Sold the Moon, Cory Doctorow
We Are All Completely Fine, Daryl Gregory
The Regular, Ken Liu
The Lightning Tree, Patrick Rothfuss
PRIČA
Tough Times All Over, Joe Abercrombie
The Hand Is Quicker, Elizabeth Bear
Memorials, Aliette de Bodard
The Jar of Water, Ursula K. Le Guin
A Year and a Day in Old Theradane, Scott Lynch
KRATKA PRIČA

The Truth About Owls, Amal El-Mohtar
Covenant, Elizabeth Bear
The Dust Queen, Aliette de Bodard
In Babelsberg, Alastair Reynolds
Ogres of East Africa, Sofia Samatar
ANTOLOGIJA
Rogues, George R.R. Martin & Gardner Dozois, ur.
The Year's Best Science Fiction: Thirty-first Annual Collection, Gardner Dozois, ur.
Long Hidden: Speculative Fiction from the Margins of History, Rose Fox & Daniel José Older, ur.
Reach for Infinity, Jonathan Strahan, ur.
The Time Traveler's Almanac, Ann VanderMeer & Jeff VanderMeer, ur.
ZBIRKA
Last Plane to Heaven, Jay Lake

Questionable Practices, Eileen Gunn
The Collected Short Fiction Volume One: The Man Who Made Models, R.A. Lafferty
Academic Exercises, K. J. Parker
The Collected Stories of Robert Silverberg, Volume Nine: The Millennium Express, Robert Silverberg
MAGAZIN
Tor.com
Asimov's
Clarkesworld
F&SF
Lightspeed
NAKLADNIK
Tor
Angry Robot
Orbit
Small Beer
Subterranean
UREDNIK/UREDNICA
Ellen Datlow
John Joseph Adams
Gardner Dozois
Jonathan Strahan
Ann & Jeff VanderMeer
UMJETNIK/UMJETNICA
John Picacio
Jim Burns
Shaun Tan
Charles Vess
Michael Whelan
PUBLICISTIKA/TEORIJA
What Makes This Book So Great, Jo Walton
Ray Bradbury Unbound, Jonathan Eller
Harry Harrison! Harry Harrison!, Harry Harrison
The Secret History of Wonder Woman, Jill Lepore
Robert A. Heinlein: In Dialogue with His Century, Volume 2: The Man Who Learned Better: 1948-1988, William H. Patterson, Jr.
MONOGRAFIJA
Spectrum 21: The Best in Contemporary Fantastic Art, John Fleskes, ur.
Jim Burns, The Art of Jim Burns: Hyperluminal
The Art of Neil Gaiman, Hayley Campbell
Brian & Wendy Froud, Brian Froud's Faeries' Tales
The Art of Space: The History of Space Art, from the Earliest Visions to the Graphics of the Modern Era, Ron Miller