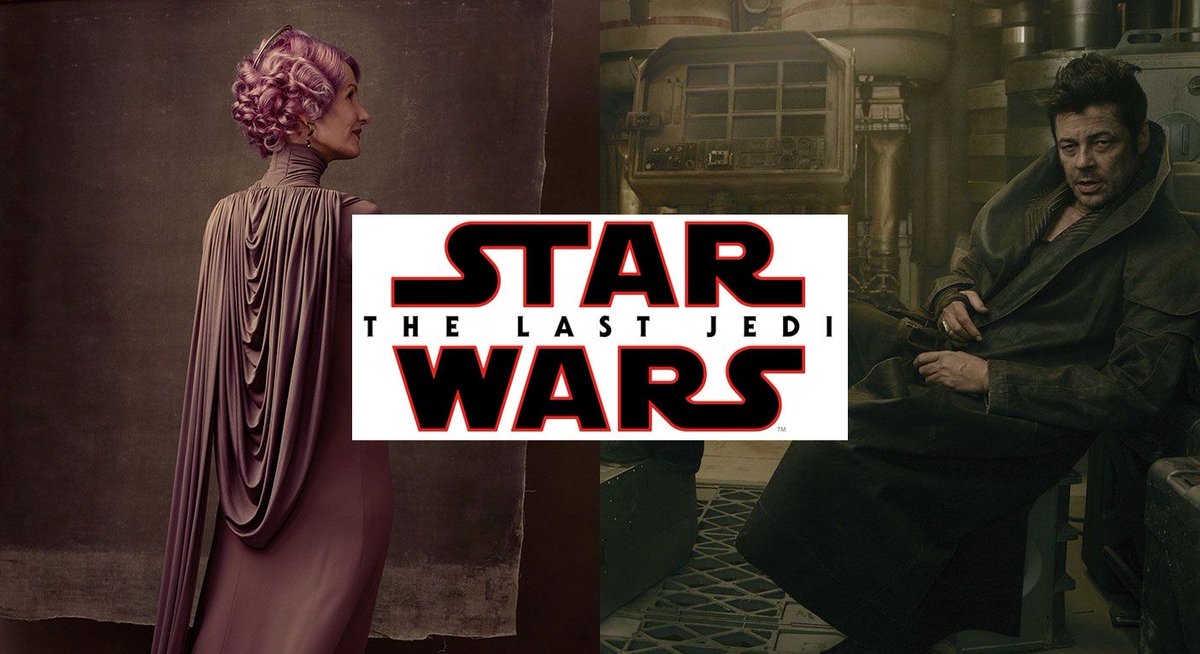 Povodom 40. godišnjice Ratova zvijezda Vanity Fair je prekjučer otkrio četiri fantastične naslovnice na temu "Star Wars: The Last Jedi" koje je snimila poznata fotografkinja Annie Leibovitz. Nakon naslovnica idući dan objavljene su i fotografije iz časopisa, koje nisu ništa manje impresivne. Osim fotki već poznatih mlađih likova poput Daisy Ridley, Johna Boyege, Oscara Isaaca, Billie Lourd, Adama Drivera i novog Chewbacce Joonasa Suotamoa konačno smo dobili i prvi pogled na potpuno nove likove, odnosno one koje tumače Benicio Del Toro i Laura Dern.
Za sada o novim likovima znamo jako malo, Laura Dern će tumačiti viceadmiralicu Amilyn Holdo, dok će Benicio Del Toro igrati prevrtljivca poznatog samo pod inicijalima DJ. Još pokoji detalj možda uspijete iščupati iz samih fotki, ali nemojte očekivati previše. Rekli bi da zapravo najviše otkrivaju dvije fotke koje su tu primarno radi settinga i pokazivanja kreativnog talenta izvrsnog dizajnera kostima Michaela Kaplana. Sigurno ćete ih odmah razaznati, one nam daju uvid u novi planet Canto Bight i njegove bizarne goste. Zanimljivo je da su Canto Bight filmske scene snimane upravo kod nas u Dubrovniku. Sada znamo da je to takozvani casino planet, iliti Monte Carlo u svijetu Ratova zvijezda. Planet je uveden u radnju isključivo da bi dao malo vedrijeg tona filmu koji je inače prilično turoban. U fokusu će se naći kada se Finn i Rose Tico (Kelly Marie Tran) zapute u misiju infiltriranja u neprijateljske redove.
Otkriveno je i da će se liku kojeg tumači Tran pridružiti i lik njezine sestre – Paige Tico, a nju će tumačiti Veronica Ngo. Paige će mentorirati Poe Dameron, ali će to ipak biti manja uloga, nego što će je imati Rose.
Kao šlag na kraju tu su i prekrasne fotke s kultnim likovima sage, izdvajamo onu s Markom Hamillom i pokojnom Carrie Fisher. No vrlo je zanimljiva i fotka iza scene na kojoj se uz Hamilla i Fisher nalaze i redatelj Rian Johnson, producentica Kathleen Kennedy, te psi Gary i Millie. Fotka ukazuje na činjenicu da su Hamill i Fisher bili zajedno na setu, što bi moglo značiti i da ćemo ih konačno vidjeti ujedinjene i na filmskom platnu.