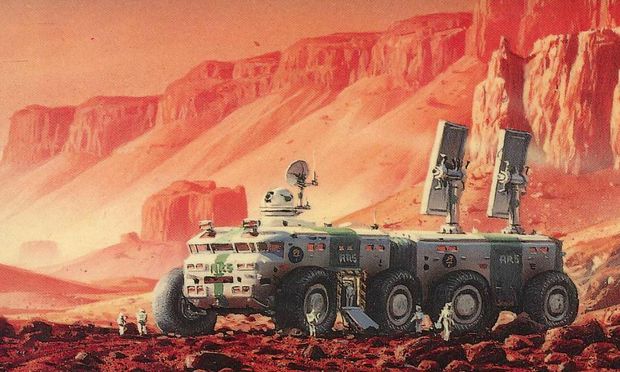 Znanstvena fantastika je trenutačno usred uskrsnuća na tv-u. Syfy prednjači u tome, ali je konačno i priznao dosadašnje pogreške i okrenuo novu stranicu sa solidnom glumom, režijom, scenarijima i produkcijom. Druge mreže su se taman ponovo dovoljno opustile i počele popuštati uzde i dozvoljavati propuštanje spekulativne fikcije.
Ikona žanra J. Michael Straczynski je upravo potpisao ugovor za rad na vrlo zanimljivoj tv seriji, i to za mrežu za koju teško da ste čuli – Spike TV. Straczynski je dobio u zadatak da napiše scenarij za Crveni Mars adaptaciju nagrađivane i iznimno popularne trilogije Kima Stanleyja Robinsona (koju uz navedeni čine Zeleni Mars i Plavi Mars). Seriju će producirati Vince Gerardis (Game of Thrones), dok će Robinson obnašati ulogu savjetnika.
Ako pretpostavimo da će se priča držati bazične radnje romana tada putovanje započinjemo na svemirskom brodu Ares, na kojem prema Marsu putuje sto prvih kolonista. Iako druga i treća knjiga idu dublje u srž (očekuju vas revolucije i novi poredak stvari) u suštini možemo sažeti radnju kao borbu čovječanstva protiv prirode.
Straczynski je karijeru započeo s He-Manom i Gospodarima svemira, no u žanrovske visine se uzdignuo pisanjem scenariija za seriju Zona sumraka. Nakon toga nam je predstavio Babylon 5, dok iz nedavnog opusa izvajamo scenarije za filmove Thor i Svjetski rat Z. Također upravo završava produkciju prve sezone serije Sense8 za Netfilx na kojoj radi s kreatorima Matrix trilogije bratom i sestrom Wachowski.
Spike TV možda nije najprirodnije mjesto za ovakav tip serije, ali od kada su kupili prava u listopadu 2014. uredno rade punom parom i ekipa koju su skupili za sada je više nego dobra, pa se s punim pravom već sada možemo nadati nečemu interesantnom.
Ukoliko volite zanimljivosti onda treba svakako dodati da su prava za ovaj predložak – trilogiju već bila kupljena. U prvoj varijanti je James Cameron želio napraviti petosatnu tv mini seriju, nakon toga je to pokušao ostvariti Syfy, a zatim i AMC.