Entertainment Weekly je danas objavio dvije nove naslovnice svog izdanja čija je tema nadolazeći film Aquaman. Warner Bros. and DC pomalo dižu zastor s junaka kojeg dekadama podcjenjuju i ismijavaju u pop kulturi, jer uz već spomenute naslovnice, objavljene su i nove fotografije iz filma, a kako se o traileru šuška već neko vrijeme sada je sasvim sigurno da on stiže vrlo skoro.
Jedna od naslovnica, ali i fotki nam je otkrila prvi pogled na kraljicu Atlannu koju tumači Nicole Kidman. Među ostalim friško pristiglim fotografijama izdvajamo onu koja po prvi put prikazuje Black Mantu, Aquamanovog najljućeg protivnika.
"Podvodni svijet u kojem se moj film odvija je odvojen i vrlo udaljen od prijašnjih DC-jevih filmova. To je kao da radim svoj vlastiti SF fantasy film. Ovo je potpuno novi podvodni svijet kojeg još nitko nije vidio u igranom filmu." – izjavio je redatelj James Wan (The Conjuring, Insidious, Furious 7).
U tom novom svijetu očekuju nas Atlantiđani koji jašu velike bijele psine, ogromne hobotnice, sedam različitih podvodnih kraljevstva, kanibali koji obitavaju u dubokim brazdama, pa čak i morski zmaj (kao Wanov žestoki odgovor na ismijavanje Aquamana radi jahanja na morskom konjicu u crtanom filmu Super Friends).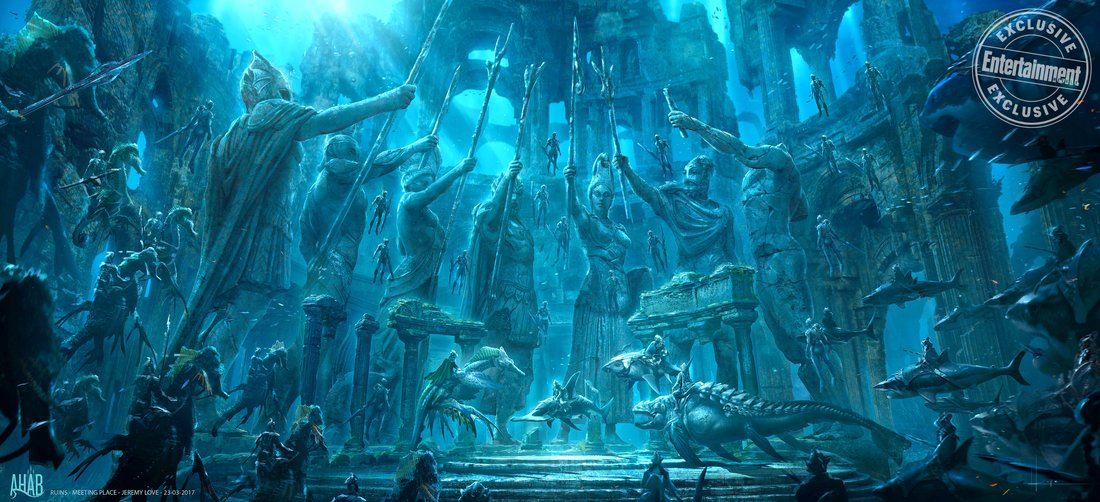 Scenarij filma potpisuju Will Beall, Geoff Johns i Wan. Glumačku ekipu čine Jason Momoa (Batman v Superman: Dawn of Justice, Justice League) kao kralj Atlantide, s Amber Heard u ulozi njegove žene Mere, Willem Dafoe kao Nuidis Vulko, Temuera Morrison kao Tom Curry, Dolph Lundgren kao kralj Nereus, Yahya Abdul-Mateen II kao Black Manta, Ludi Lin kao Murk, Patrick Wilson kao Orm/Ocean Master, već spomenuta Nicole Kidman kao Atlanna i Michael Beach kao Jesse Kane.
Film Aquaman u kina stiže 21. prosinca.
Aquaman se prvi puta pojavljuje u stripu More Fun Comics #73 1941. godine, a kreirali su ga Paul Norris i Mort Weisinger.
Aquaman je jedan od osnivača Justice Leaguea i kralj Atlantide. Pravim imenom Arthur Curry, sin je Atlanne, princeze Atlantide, koja je prognana iz Atlantide zbog svojih čestih posjeta površini. Za vrijeme olujne noći pronalazi je usamljeni svetioničar Tom Curry i ubrzo počinju zajedno živjeti. Iz njihove ljubavi dolazi mali Arthur, koji ubrzo počinje provoditi i nekoliko sati pod vodom igrajući se s ribama. Tom tada saznaje istinu o Atlanninu porijeklu te da je njihov sin naslijedio njenu sposobnost da diše pod vodom, komuniciranja i kontroliranja bića iz mora te veću snagu i reflekse, u odnosu na obične ljude. Nakon Atlannine smrti, Tom se posvetio obučavanju Arthura, kako bi bio što bolje obučen i sposoban pomoći drugima. Arthur ubrzo napušta svoj dom i pokušava pronaći vlastiti put u životu. Postaje kraljem Atlantide i ženi se s Merom, gošćom iz Xebela, vodenog svijeta iz druge dimenzije. Zajedno sa Supermanom, Batmanom, Wonder Woman, Green Lanternom, Flashom i Cyborgom osniva Justice League, glavni superherojski tim DC svemira. Aquaman će se boriti s raznim protivnicima, ali najveći neprijatelj mu je Black Manta. Manta će se, u svojim nastojanjima da postane vladarom sedam mora, mnogo puta sukobiti s Aquamanom.
Najveću popularnost Aquaman je ostavrio kroz animiranu seriju iz 70-ih Super Friends. Zbog svojih moći, koje najbolje dolaze do izražaja u oceanu, Aquaman kod gledatelja serije stječe glas trećerazrednog heroja i biva predmetom mnogih šala, pa se nerijetko naziva i najlošijim superherojom ikada.